Creatives: The creative solution for your Social Media campaigns
Let's get started! What is a catalogue or product feed? It is a document in CSV or XML format that collects the information of all the products in your e-commerce.

There are three ways to obtain this file: With plugins from e-commerce platforms such as Shopify, Woocomerce or Prestashop; with the help of the technical team that manages your e-commerce and, if you have few products and little turnover, creating it manually.


Remember that... The more data this document contains, the better advertisements and audience segmentation you can make for your social media campaigns.
The importance of an effective and attractive campaign
With the catalogue set up, it's time to create ads that impact our audience. And... How do we make effective and personalised campaigns? With Dynamic Product Ads (DPA).

Also known as custom scale ads, they give your brand the ability to impact users who have been on your website or app and show them an ad with the products they have seen or related.
But... How do we get access to that information? Pixel events in the case of your e-commerce website or the SDK in the case of your app are what allow us to track users and configure campaigns.
With this type of ads, automation plays a key role in generating campaigns since it allows your brand to reach users without having to spend unattainable time. It also has other types of benefits such as:
Multi-platform orientation: Reaching users on any platform or device, regardless of the initial point of contact with a product.
Retargeting: Impacting users who have carried out a certain action on your website or app.
Learn more about the benefits in

"The DPA Experience"
The main difference between DPA and other ads are the results. The ROI (return of advertising investment) increases considerably: ads are personalized, audience is more receptive and it increases the conversion ratio. In addition to the conversion rate, the click rate also increases, which directly decreases the costs. This is why they are effective campaigns.
And... how do we make them attractive too? Creatives by Adsmurai!
The solution: Creatives by Adsmurai
Adsmurai's Creatives tool allows you to easily create graphic templates for your e-commerce catalogue images following your brand's visual style to attract users' attention with your dynamic advertising campaigns (DPA) in Social Media. With our creative tool you can unify the style of all your images and decorate them with colours, frames, shapes... Even add various texts such as the name of the product or old price vs. sales price.


The main benefits Creatives can bring to your brand are:
Improve the look&feel of your products

Enhance the products with the offers or campaigns that suit you best.

Generate more retention in your ads.

Increase brand recall with your catalogue campaigns

Improve ROAS (return on investment)
The platform: Adsmurai Marketing Platform
There are many options in the market to launch campaigns, even the Social Media platforms themselves allow you to create your own ads. But... What are the benefits of choosing the Adsmurai platform?

On a technical level, with Adsmurai you can:


Resize your ads to 1:1, 4:3... To adapt them to any format or platform

Modify the measurements of the product image freely, beyond zoom out or zoom in.

Import as many elements as you want in .PNG or .JPG (logo, layout, stickers...) or your .SVG.

Add any field of your catalogue in the ad (price, percentage, free shipping...) or any free text in the font you like.
At service level, let us advise you on how to create really personalized overlays to optimize your campaigns in Social Media as in the Success Stories we showed you for UOC,

Wallapop

or NBA.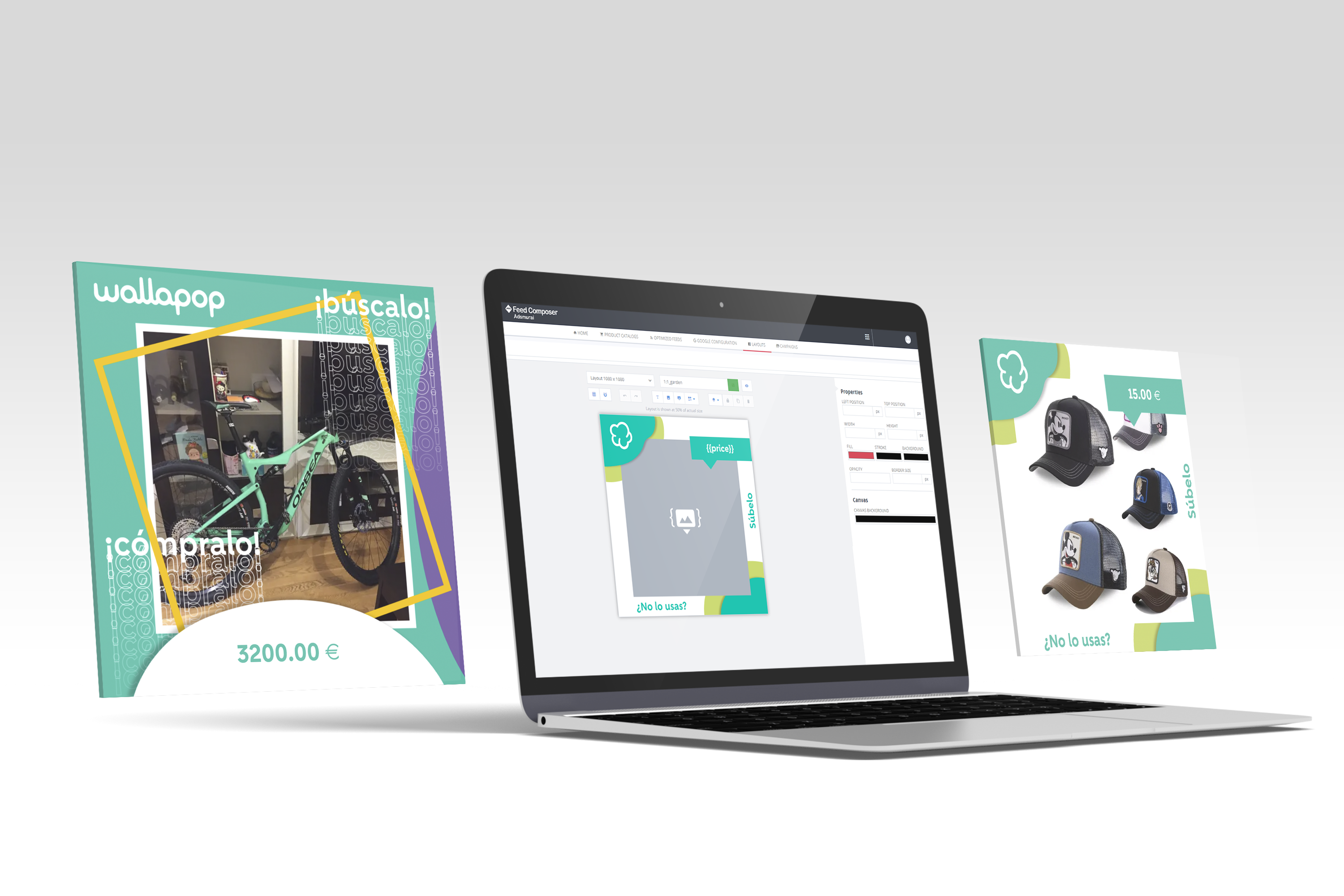 Share your e-commerce challenges for the Christmas campaign
with us to maximize the results of what is predicted to be
the largest digital Christmas campaign.
Let's talk