Good reasons to invest your digital advertising budget in social networks
We start 2016 looking forward to keep working. Social Networks are growing and doing advertising there is an opportunity for your business. One of the trends we predicted for this year is the increasing investment in social advertising. With the new Instagram advertising or the new formats in different networks, Facebook Ads will still be the leader. That's why we want to tell you why you should invest your advertising budget in these platforms.
They work
We would never recommend you something that won't be useful or that doesn't work. Nowadays, many brands have decided to invest in advertising on social media and a study from the Content Marketing Institute says 52% of the B2B marketers plan on using promoted posts like promoted tweets, or 51% will use social ads such as on LinkedIn. In the same study, 48% of the marketing respondents confirmed having used social advertising before and that it had worked.
For everyone
Facebook, and consequently Instagram and all the platforms they manage, is not only for big companies and businesses. In fact, they have launched different tools and buttons to help small businesses, such as Facebook Stores. In addition, the minimum investment is so affordable, just 1$ a day, and they propose different goals: brand awareness, getting leads, content promotion, getting followers or getting sales.
Your competence is already doing it
The early bird gets the worm, so the sooner you start doing marketing on social networks, the better results you will have against your competence. Prepare a multiplatform strategy to reach a wider and more useful target. With the right segmentation tools you will optimize your investment. Segmentation examples are: Age and gender, interests, Custom Audience (People you have in your database), Website Custom Audience (People who visit your web), Mobile App (People using your app), Fans (People linked to the brand on Facebook).
Come and get to know your target
Your potential customers are not behind a TV where you impact them without knowing who they are anymore. They are still there from time to time, but you know they spend their day in a place where you can be with them too: social networks. Looking at their behaviour and reading their updates you can get daily insights to use in your marketing strategy.
According to Pew Research, in 2014, 71% adults using the Internet were in Facebook and 52% used more than one social network. It allows you to plan a multiplatform strategy to reach a wider target in different networks in a more creative way, in a space where they are more receptive than in the traditional media, and with a cheaper budget.
You will find customers you didn't know existed
As we have said before, thanks to segmentation tools you will find people interested in your product or brand that you couldn't have reached through any other media (at least at this price). In addition, thanks to hashtags and keywords, you can find people who have talked about you and contact them with a simple @. Doing advertising on social media you reach not only a lot of people, but also the right ones, you establish a bidirectional relationship and get to know them better for future communications.
Customers you didn't know existed will find you (and buy)
When segmenting, you will select people with interests related to your business or product but it is possible that they still don't know you. This way, when they discover you and see the relation with their interest, they will feel curiosity for your brand and will receive your ad with more confidence and joy. Apart from the ads, it is necessary an investigation on different social networks of the groups and pages related to you, where you can place a small insight or link if it is allowed. This way, you will be publishing directly on a meeting point of people you are interested in, more likely to welcome your proposal.

Users are more receptive
Twitter, Facebook, Instagram… are seen by users as social networks and not marketing platforms. They access these platforms to read content from their friends and brands they follow voluntarily, so they expect an interesting content, and won't take notice if it is an ad. We must take profit of the advertising formats to attract users attention because the will want to read and listen to us.
Even though Facebook, Instagram or Twitter always indicate when a post is promoted, it appears in the organic feed with the same format as a normal post (although there are also sidebar ads presented specifically as ads). That's why you must take advantage of this format and test your creativity. We mentioned before, that one of the goals that social media ads offer is getting sales, but if we don't know how and when to use it, it can be the less effective, because it is the most intrusive for the user. On the other side, if we play with our pictures and offer interesting content we will have more possibilities of attracting new followers andd potential customers. In addition, Facebook lets revise the creativities during the campaign and use more than one to test which ones generate better results for each target.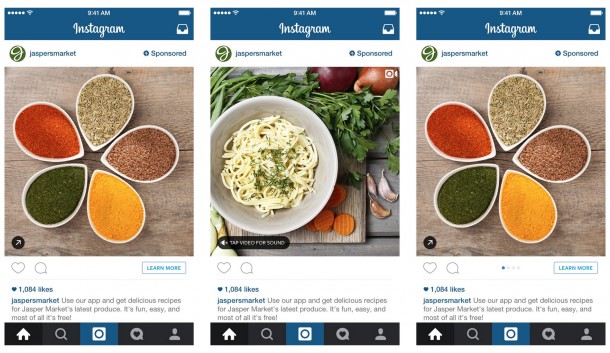 Quick response
21st century meant a growing bidirectionality, not possible in conventional media. Your customers want to have a conversation with you. Want you to take care of them and solve their doubts. They want to feel loved. They will interact with you and you will be able to answer referring to them by their name. The response rate must be high to get better results. And there is more, you can communicate news, offers or problems in real time, and they will appreciate it. Using advertising will help you get a higher reach and communicate better your messages.
Two words: More sales
When you are constantly present on your customers feed, they will be more likely to buy your products when they need them. But advertising on social media does not only mean being present, but also offer interesting content. It can be additional information, incentives like purchasing priorities or discounts. The format and how we use it will be determinant to end up getting these leads. In our blog you will receive information about new formats in different networks and how to use them to get better results.
High ROI
We don't mean say that you don't have to pay for it, obviously, social media dvertising has a cost, but nowadays is one of the media that will give you a higher Return Of Investment (ROI). Advertising on any conventional media will get you a high reach and audience, but no one guarantees that this audience will be useful or will pay attention and the price will be huge. A good social media strategy requires contracting an specialized agency and, if possible, Partner of any of the networks where you want to place advertising. The will help you segment to reach a wider audience always useful or related to your target. This way, spending on social media provides sales conversion that will help you get your investment back and gain customers that will probably keep buying your products.
Now put it in practice
With all this you have our advice and warnings to start placing advertising on social media and maybe you have not thought about it yet but we want to solve you one last doubt before it comes to your mind. How to distribute my budget for social media? That is what we call microbudgeting and you accomplish it thanks to an analysis and localization of your target. You should analyze which networks they use and their behaviour there. That's how you will decide the proportion you invest in each network. Remember that a greater segmentation can increase costs but it offers much more useful results. A multiplatform strategy with a great segmentation will optimize your campaigns more than you can imagine.
We hope this post has helped you. Now you can start placing advertising on social media and remember that in Adsmurai we will be delighted to help you with your social media campaigns.