Join Instagram's carousel
Just a few months ago, Instagram announced the emergence of the carousel ads. We had already seen this kind of advertising on Facebook, and now the most visual social media finds in these kind of ads a new opportunity to connect with their target.
This tool is available for all advertisers through API, Power Editor and Facebook Ads Manager. In Adsmurai we have integrated it in Adsmurai Marketing Platform and is available for our customers.
Carousel ads give brands a great opportunity. With them, they can tell sequential stories in an attractive way and reach more significant results for their businesses. These ads offer freedom and flexibility in the way of telling these stories and every brand is finding a different way to do it depending on their philosophy, aesthetic or product. In addition, the results obtained in the sequential ads on Facebook, the equivalent to carousel, has meant a 30%-50% thrift in the cost per conversion and a 20%-30% thrift in the cost per click, in comparison to the unique image ads.
Referring to the potential customer, these ads increase curiosity about the brands, because the stories offered with carousel are more inspiring than the unique image ones. Even so, users are not obliged to access the different parts of the carousel and can scroll down to the next picture on their feed.
Technologically, with carousel ads on Instagram we bring the multipage campaigns' potential to the desktop feed and mobile phones. In addition, the insertion of different call to action for each image adds the benefit of driving the user to different parts of the advertiser's web page, so that he/she receives information or buys their product.
Since June we can see these kind of ads in USA, United Kingdom, Germany, France, Australia, Canada and Brazil. We have seen wonders like these ones: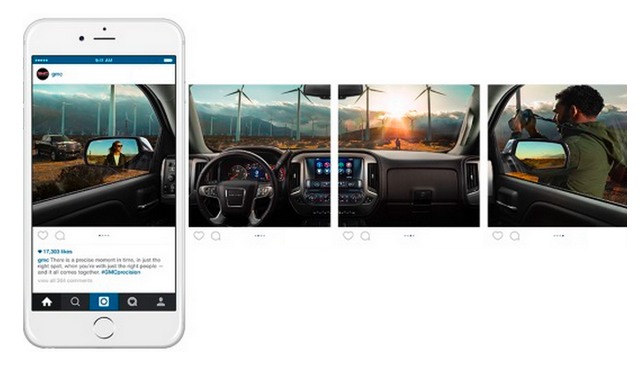 From now on, we start publishing these kind of campaigns for customers who were expecting it.