- Case Study -
Mango
Driving Increased Traffic through Strategic Creative Alignment

Overview
New strategy on Pinterest to increase Mango's traffic for Capsule, the new Spring/Summer Events collection
Focusing on the formal events season, Mango launched a new collection called Capsule, embodying the brand's core values of exclusivity, quality, and fashion. This study showcases how Mango leveraged its characteristic dresses and jumpsuits to captivate its target audience and drive substantial traffic to its online platform.
In order to increase website traffic during the Spring/Summer events season and establish Mango's position as a go-to brand for formal occasions, the brand aligned its creative approach with one of the season's trends.
Adopting trends on Pinterest led the brand to noticeable results in its consideration campaigns, achieving improvements in platform costs and better traffic metrics compared to creatives that were not tailored to emerging trends.
0

%

CPC vs. creatives not adapted to emerging trends
0

%

CTR vs. creatives not adapted to emerging trends
RETO
Strategic trend adoption
Within the media strategy, Mango partnered with Adsmurai to utilize the Trends Tool in Pinterest Ads, which revealed a rising trend in Spain known as "look invitada boda dia." This trend perfectly aligned with Mango's Capsule collection and matched what the target audience actively searched for on the platform.
The Trends Tool in Pinterest Ads is a feature that provides advertisers with insights into emerging trends and popular topics on the Pinterest platform. It helps advertisers identify what Pinterest users are searching for and engaging with, allowing them to align their advertising strategies with these trends. By leveraging the Trends Tool, advertisers can gain a better understanding of the interests and preferences of their target audience, helping them create more relevant and engaging ad campaigns. The tool can provide valuable data and inspiration for content creation, keyword targeting, and campaign optimization on Pinterest. It allows advertisers to stay up-to-date with the latest trends and effectively reach and engage with Pinterest users.
Pinterest Predicts and Trends provide advertisers and content creators with valuable guidance on user interests, content creation, and campaign optimisation. By leveraging these insights, businesses can enhance their visibility, engage their target audience effectively, and drive results on the platform.
Recognizing this alignment, Mango modified its assets to incorporate "looks de invitada" as the image claim, while utilising the "Trend Badge" format. This format provided Mango with exclusive ownership of the trend, enhancing the visual appeal of the image.
"We take great pride in our ability to seize the commercial moment and exploit the collection's full potential by aligning Mango with user searches on the platform. Detecting growth opportunities such as capitalising on emerging trends and market shifts helped us to maximise campaign performance."
— Mireia Sebastián Sánchez, Account Manager at Adsmurai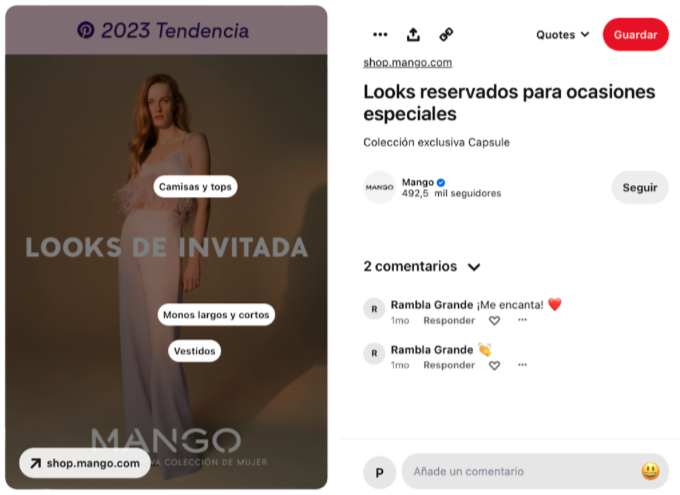 RESULTADOS
Driving Quality Traffic and Exceeding Expectations
The outcomes of the campaign were highly favorable. The cost per click (CPC) achieved an impressive reduction of 49% compared to previous campaigns, indicating a significant improvement in cost efficiency. This allowed the brand to make the most of their advertising budget while driving quality traffic to their website.
Furthermore, the click-through rate (CTR) achieved an extraordinary increase of 118% compared to expectations. This heightened engagement demonstrated a strong alignment between the user's search intent, the campaign's messaging, and the irresistible appeal of the Mango collection. Users not only showed interest but actively clicked through, showcasing a high level of intent to explore further.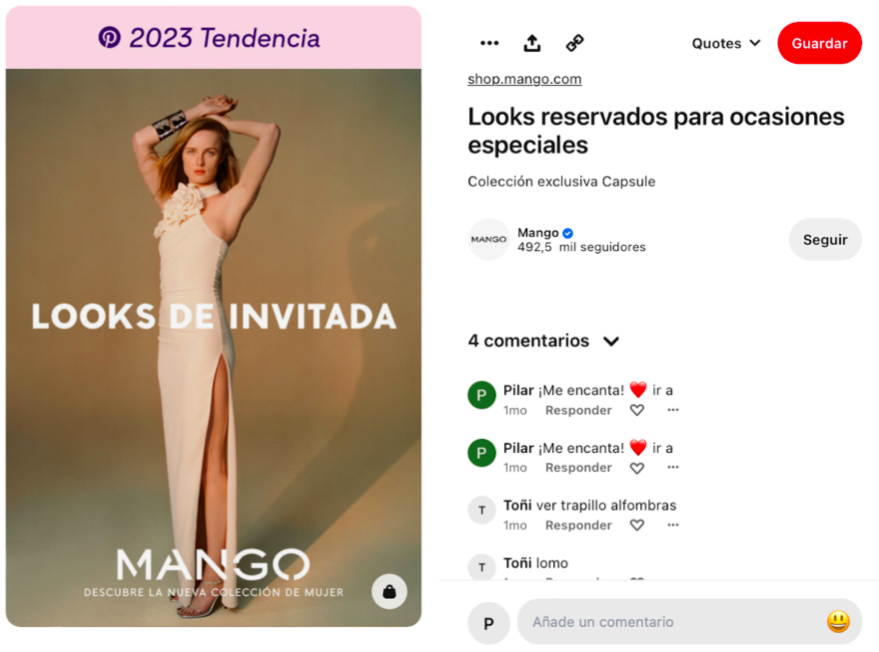 With the launch of CAPSULE, Mango sought to capitalise on the Events moment in spring with a new, exclusive and high-quality collection. We managed to work on an innovative social media strategy that allowed us to exceed our goals. Working with Adsmurai is synonymous with success!
Advertising Department, Mango