Enhance your campaigns performance with search engine marketing
Improve your SEM campaigns results

Ad spend optimization and management is crucial. We ensure that your SEM budget is allocated effectively, targeting the right audience, and optimizing your ad spend for maximum ROI.
Stay ahead while increasing performance

Keeping up with platform changes can be a challenge for brands. That's why we stay up-to-date to adapt SEM strategies accordingly, ensuring that you're using the most effective practices and taking advantage of new opportunities.



Join businesses like yours taking control with us of their search engine marketing





Convert your audience with SEM and PPC strategies
Reach your audience on any platform
Whether it's Google Ads, Bing Ads or a combination of platforms, we create a tailored strategy and consistent messaging, branding, and optimization techniques that ensure your brand maximizes its reach and impact on any platform.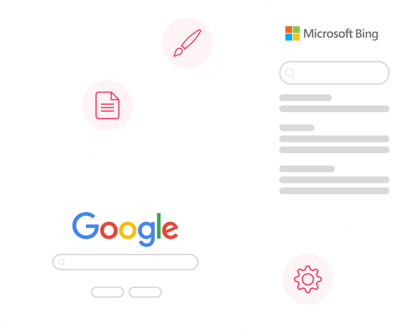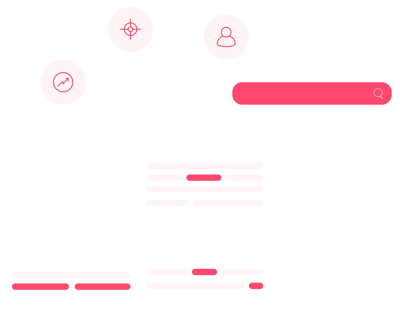 Audience targeting and campaign optimization
We go beyond basic keyword selection by segmenting your audiences and identifying high-intent keywords that indicate a strong likelihood of conversion.
By optimizing your campaigns, we help you tap into niche markets, attract highly engaged users, and increase your chances of conversion.
Customized bidding strategies
Bidding effectively is crucial to achieving optimal SEM results. We dig deep into your competitors' bidding tactics, analyzing factors such as bid adjustments, bid strategies, and ad rank.
This enables us to devise a customized bidding strategy that allows you to strategically position your ads, maximize visibility, and optimize your budget allocation.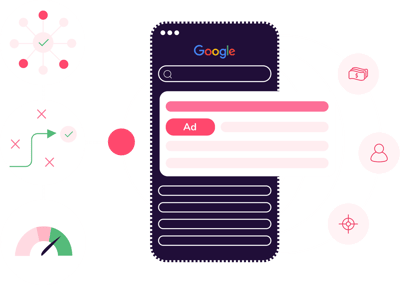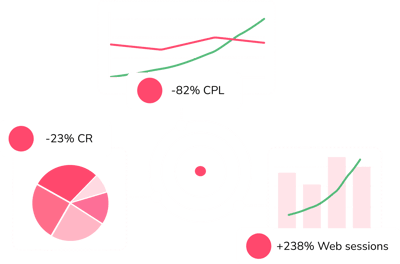 Reporting aligned to your objectives
Whether it's lead generation, e-commerce sales, or website engagement, we align our reporting to your specific objectives.
By analyzing and interpreting the results, we help you understand what's working, what needs improvement, and how to optimize your strategies for better performance.
Launch campaigns in any placement

Search Network
Target your ads to users who are actively searching for specific products, services, or information that you offer.

Display Network
Introduce your brand, products, or services to potential customers who may not be actively searching for them.

Shopping Ads
Ensure your ads are shown to users who are more likely to convert when searching for a particular product.

Local Campaigns
Attract local customers who are more likely to visit your physical store or use your local services.

Video Ads
Highly engage your users with visual brand storytelling across various platforms and channels.

App Promotion ads
Encourage users to download and install your app and expand your user base.
How we will

work together
Initial consultation

Through an in-depth consultation, we gain insights into your industry, competitors, and current marketing efforts to develop a tailored SEM strategy that aligns with your objectives and delivers the results you desire.




Strategy and planning

Once understood your needs, we will create a detailed roadmap that outlines the campaign structure, messaging, and targeting parameters, ensuring every aspect is optimized for success.




Campaign execution

By understanding your target market, identifying relevant keywords, and developing captivating ads, we ensure that your campaigns are precisely targeted, optimized, and compelling.



Continuous optimization

We don't just set up your campaigns and leave them to run on autopilot. We analyze key performance metrics, identify areas for improvement, and make data-driven adjustments to maximize your ROI.




Detailed reporting

From key metrics to emerging trends, our reports provide actionable data that empowers you to make informed decisions.

Collaboration and team

Collaboration is not just about achieving short-term goals; it's about fostering long-term growth. That's why we actively promote knowledge exchange, industry insights, best practices, and more.
Official Marketing Partners
As a Google Premier Partner and strong experience in Bing and more search engines, we've been at the forefront of paid search since its beginning, witnessing its evolution and gaining invaluable industry insights along the way.
Backed up by proprietary technology
Our proprietary technology, Adsmurai Marketing Platform, serves as the backbone of our operations, enabling us to execute highly targeted and efficient ad campaigns for our clients.
Thanks to the work we do with Google and Adsmurai we have been able to improve the quality of the results in our lead acquisition campaigns.
Enrique Burgos, Marketing Director at FP Claudio Galeno