Creative strategies for your social networks in the millennial era
Social networks are more visual every day. We said it last year but then we still couldn't be aware of all the progresses in all social networks in order to adapt to this premise imposed by the millennial community. Instagram has reached 500 million total users and 300 million active daily users, a few days ago Snapchat announced a forecast of 1 billion dollars ad revenues in 2017. Facebook and Twitter want to be part of this success buying Instagram and Periscope, launching live videos for Facebook, or announcing that in the following weeks Twitter will stop counting characters for multimedia content, promoting photo and video sharing.
Periscope, Instagram or Snapchat are more popular every day and brands start integrating them in their digital strategies, in an organic or paid way in order to reach their target in an effective and interesting way and improve their results.
During Q4 brands plan their budgets and strategies. It clearly happens in the fashion industry, that during september and october presents new in-store collections and fashion weeks are celebrated all around the world. Here you have some tips about creative strategies on different social networks through some examples, mainly from the fashion industry, so that you can find some inspiration:
Be worth-following:

the first step consists in having followers. Nowadays

all brands want to be in all social networks but users will only follow those that can provide an added value.

Inspiration, offers, exclusive content...users need to feel that a brand provides value. For better or for worse, the unfollow button is near and it is easy to press. Added value means

offers, exclusive discounts for followers, having some information before the rest of the world, or access some contents that can't be seen in any other way

. Let's see some examples:
The first one comes from Massimo Dutti's campaign in order to promote the new AW 16-17 collection. Only Instagram followers could discover the new collection before anyone else.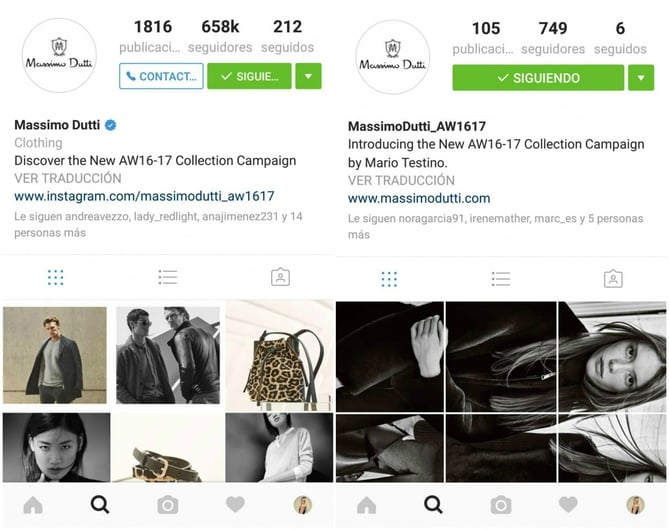 What they did: they changed the bio link of their official profile and placed a link to an Instagram Account especially created for that action. Once in that profile, the bio link was their website, in order to get conversions and the collection was presented as a mosaic, taking advantage of Instagram creative options and generating more impact. All the action was complemented by a Facebook and Instagram ads campaign that improved the results. This is how it looked like: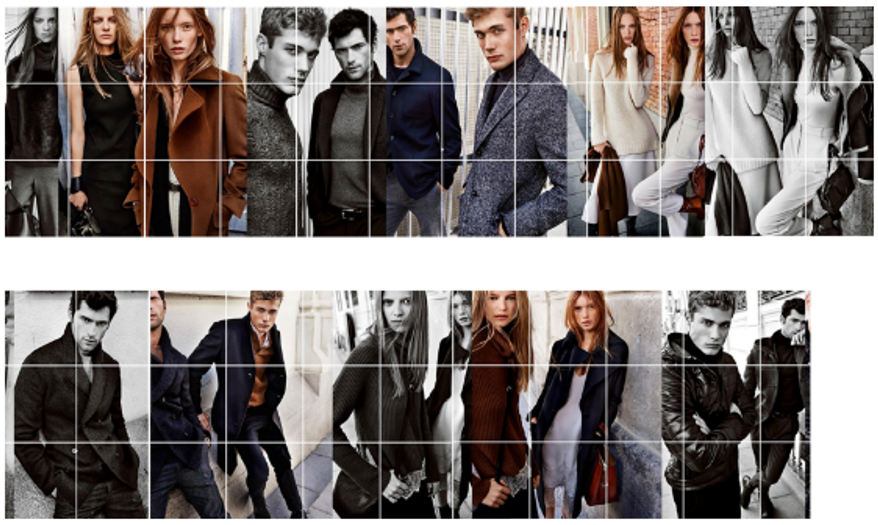 A second example comes from Desigual, that launched a streaming through Twitter/Periscope during the New York Fashion Week and showed the runway from the front row and the backstage. In addition, if you missed it, you could watch the final video from their profile. All the process was promoted on social media.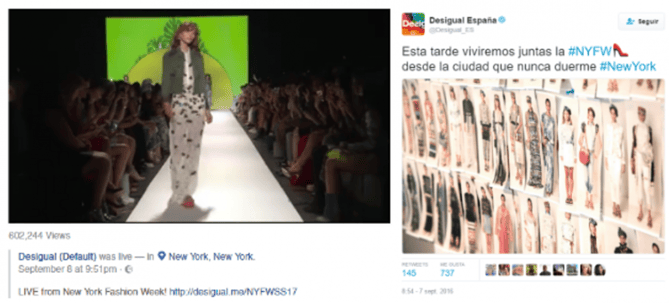 Generate a conversation and improve the relation with your followers

: bidirectionality is one of the greatest advantages that provides Internet and social networks have brought it to the next level. Chats, much more personal than emails (and that will still evolve and be so present next year), are a clear example, but one of the most powerful tools nowadays are hashtag.

The creation of a special hashtag for a brand

offers users an opportunity to contact the brand, and the brand can follow users' opinions, answer and interact. One of the last examples comes from #mycalvins by Calvin Klein, that counts with nearly a

half million publications from users

. In addition, this trend was promoted by many celebrities and proposes a conversation, inviting users to tell what they do with #mycalvins.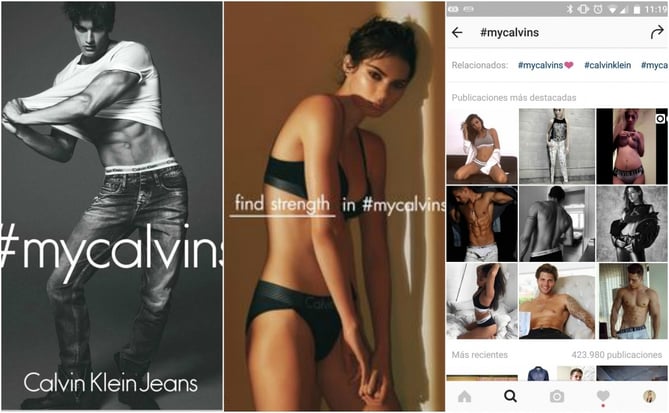 Another trend that can't be forgotten is the increasing use of User Generated Content. The conversation created from a hashtag lets brands access the content created by users in order to be closer to the brand. Brands can access this content and share it on their profiles giving value to those users and enhancing more interactions. One important thing: brands should ask for permission, credit the authors and tag them. If not, this could be considered as irregular use of external content and it can have negative consequences.
Be worth-sharing:

Now that you have followers and they interact with you, make them want to share your content. Brands do it through contests with pictures that need to be shared in order to participate but there is a new formula and its name is Snapchat. Users take pictures using Snapchat filters and they share them on that network but also save them and share them on other social networks. That's why one of the advertising options on Snapchat are

corporate filters

. A very good example comes from McDonald's, that wanted to promote the launching of its Snapchat profile in Australia with some corporate filters. In addition,

they chose the best picture with their filters and posted it as their first story.

In this case the action was geolocated in Australia, where the profile was being launched. Geolocation options include countries, organisations or event assistants to an event.
Collaborate with Influencers or Bloggers:

we've seen it on Instagram for a long time and now we can also find it on Snapchat. Collaborating with a celebrity is an easy way to reach a

related and large target

. Of course, we must use an adequate person that fits the brand. Collaborations can come in different ways. An influencer can be a brand's new image, write an article for a brand, make an interview… Using these methods,

an influencer can drive traffic to a brand's website.

On social networks, both influencer and brand publish the same kind of content and are connected through tags.
A recent case is the one between Tommy Hilfiger and the model Gigi Hadid. The model has created one of their latest clothes and perfumes collection and her Instagram is constantly related to the brand, always using tags. On the other hand, Tommy Hilfiger's profile has different pictures of the model in order to attract her followers and promotes the products design by her.

Another example of collaboration was born on Instagram but has increased a lot on Snapchat: the "Takeovers", when an influencer admins a brand's profile during a day because of an event or any other occasion. Gucci and Michael Kors have tried it and the actress Vanessa Redgrave and the It Girl Camille Charriere managed their accounts for a day because of different events such as a shooting during the Gucci Cruise or the opening of a new store. As said before, these brands chose related celebrities.
Take advantage of the business tools:

all the actions seen are very powerful on the organic level and i

ts potential can be much bigger if we combine them with a Facebook or Instagram campaign that increases traffic, notoriety or followers

. Users are looking for different actions and its promotion will reach more people. When talking about Instagram, business profiles have been recently launched with Business Tools, an analytics service that we shouldn't forget. Thanks to this tool you can obtain different data such as the

posts that perform best, the daily followers growth or the countries that follow you the most

. All this will give you a

more precise image of the content that is worth promoting in order to optimize your advertising

, the actions that attract new followers or the countries you should impact.

We are on the visual era, the millennial era. And not only millennials act like millennials. All users are adapting their behaviours and your brand strategy should also adapt in order to keep growing and obtain results. The fashion industry has decided it, and you, are you already thinking about your strategy to take advantage of new social networks for your brand?