How about selling 15000 units of lipsticks in 5 minutes?
That's the magic of Live Streaming in China. It has been an effective sales & marketing tool initiated by local Chinese brands and nowadays adopted by more international big players. Why has it become so popular? Is it a universal solution for all industries?
Live streaming by Austin Li, one of the most famous live streamer for cosmetic brands, trusted and beloved by his fans because of his honest, direct and objective reviews about brands.
Live Streaming drives sales
While live streaming starts to get momentum in Europe as brands try to stay close to their customers during COVID-19, it is mainly considered as a branding campaign. In China however, live streaming has been an effective tool to boost sales for years. Here are some data of top live streamer sales, the numbers sound crazy:
Austin Li, dubbed "King of Lipstick", once sold out 15000 units of lipsticks in 5 minutes.

Viya, "Queen of live streaming influencer", who brought 33 millions euros sales during a 2-hours-long streaming.



The data looks quite lucrative right? However, before jumping into a live streaming let's try to understand: why is it so popular and effective?
Direct communication with the influencer. The personal charm of an influencer* or KOL (Key Opinion Leader)* is often the reason why people watch a live streaming. Some critics say live streaming is just like TV sales in the past, but there is an essential difference about live streaming: the sense of real time participation and direct communication through comments and likes, knowing that your favorite influencer will see your comments and maybe "cue" you back. For example, Austin Li once responded live to a comment from a 15 years old teenager: "15 years old is not quite ok (to watch my live streaming)" and that he expects audiences to have personal income before spending money impulsively in his live streaming. Even more fans are attracted to him because of his value and honesty.
Difference between

influencer and KOL

: they are quite similar in the way that both influence customer's opinion and decision about brands or products. Although the term "influencer" is more focused on the popularity of the individual, "KOL" put more emphasis the individual's on professionality and trustworthiness since it's called key opinion leader.
Discounts and incentives. This is an important reason why people decide to purchase in a live streaming instead of other channels. Big KOLs usually have the negotiation power to get the lowest price in the market and bring real benefit to their fans, this is so-called "spoiling the fans". Nowadays, especially after the crisis of COVID, consumers are more realistic than ever. Offering special discounts and incentives plays a crucial role in driving consumers purchasing decision.
Save time and effort.

Finding a trustworthy influencer means that consumers will save time and effort in investigating the brand and trying on the products. Especially in a fast-speeded society like China, everyone wants to reduce the possible cost of mistake by listening to the advice of an influencer or KOL. Imagine when people watch a live streaming on the metro back home, they can make the best use of their time by easily completing the purchase without having to visit a physical store.
Live Streaming in 2020
2020 is doomed to be special. In this extreme situation of COVID, we observed a wave of deep digitization initiated by all walks of lives who were thriving to survive the crisis. Data shows that between February and May of 2020, 4 million sessions of live streaming sales took part in China, promoting a wide range of products from lipsticks, clothes, fresh fruits and vegetables to apartments and even rocket (yes, Viya sold a rocket worth 5 million euros in her live streaming). It used to be a business for influencers, KOLs and Gen-z, however nowadays a growing number of ordinary people, entrepreneurs, and C-level executives are participating in live streaming to help promote sales of his/her business.
We also observe that nowadays major social media platforms are embracing the trend and integrating live streaming function. Live streaming first started on video or streaming platforms such as DouYu, HuYa, Bilibili, but the popularization of live streaming is thanks to major social and retail platforms like WeChat, Little Red Book, Taobao, etc. For example on WeChat, live streaming is realized through mini program: if you own a mini program you can easily use the official or a third party plug-in to enable live streaming function; if you don't have a mini program yet and need to do live streaming urgently, the official Tencent "Kandian Livestreaming" offers you a fast solution. You can even promote your live streaming with WeChat Ads, which offers you the flexibility of placing time-limited ads for only 6 hours per day.
Looking to where we stand, we are experiencing an unprecedented revolution in marketing: a decentralization and a people-centric revolution, which is reflected by the popularization of live streaming. The starting point is to see your customers as real human beings with feelings, instead of piles of cold numbers.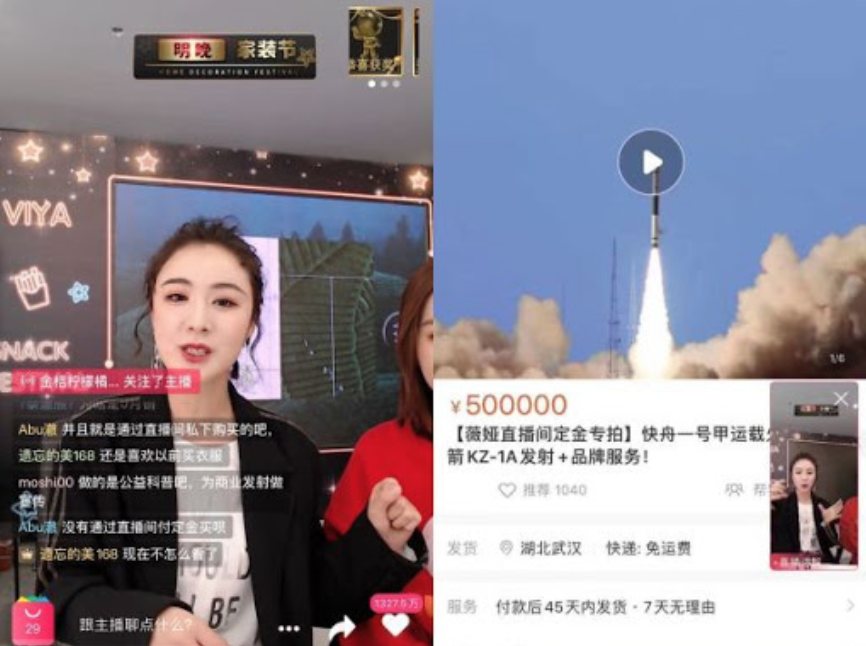 Viya selling a real rocket with launching service in her live streaming. 500k rmb showing in the picture is the down payment while the full price is 40 million rmb / 5 million euros.

Is it a universal solution for sales?
Although nowadays live streaming is widely used across almost all industries, the most successful vertical is still beauty and cosmetics, because it's quick to see a before-after effect that drives people to convert. Live streaming is more effective for products whose effects are demonstrable, not too expensive but needed in everyday life, which takes less time for customers to make purchase decision.
Behind the beautiful numbers of live streaming sales, the overall profitability is often questioned by brands. Apart from offering aggressive discounts and incentives, KOL endorsement fee and operational costs should also be taken into consideration.
There is no doubt that live streaming is an effective way to bring traffic to your brand and keep close to your customers, that's why brands should consider it as a long-term investment than just a temporary relief to boost sales.
In a post-COVID China, people are living with new habits that are shaped and strengthened during the crisis, and watching live streaming is likely to remain in the "new normality".