Grabbing short-video chance in China
Living in a fast-paced society, people are consuming more video contents to get entertainment, knowledge and information without much effort.
Video, a more entertaining and attractive form of communication, has emerged as a more popular channel than only pictures and texts. In a broad sense, online videos can be divided into short video (eg. Tiktok/Douyin), long video (eg. Youtube, Bilibili), and OTT (eg. Netflix, Tencent Video, iQIYI).
In China, short video industry attracted nearly 100 million new users in 2019, reaching MAUs (monthly active users) of 821 million and still maintaining a healthy growth rate of 32%. In comparison, the overall online video industry has 964 million MAUs with a growth rate of 2.4%. Short video industry is quickly catching up and is likely to dominate users attention. Furthermore, during this year's quarantine, video platforms have been one of the most popular ways to spend time and get entertained.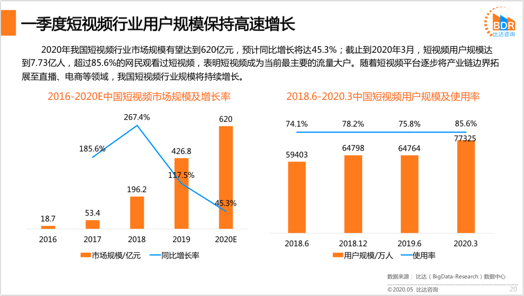 Left: Short video market size & growth in China. Right: Short video user size & growth in China.
Data from BDR Consulting.
Let's meet Douyin
Deepening into short video platform, Douyin (for Chinese market) or Tiktok (for international market) are the ones to mention without any doubt. Being a global leader in short video social media platform, ByteDance (the parent company of Douyin, Tiktok, Toutiao and other apps) is the first Chinese company that has made it this far in globalization.
Douyin DAUs almost doubled in 1 year, from 250 million in 2019 to 400 million in 2020.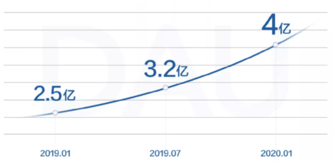 Data from Douyin official.
Douyin launched the first version in 2016. In only 4 years, it has grown to be one of the most important social media platforms in China with 400 million DAUs. The success of Douyin is because it complied with the trend of video contents and satisfied people's increasing desire for self-expression and entertainment. Funny filters and handy video editing tools have made it much easier for ordinary people to create short videos, share their life and even create mini series.
During early stage, Douyin users were mainly teenagers and male users. Nowadays, Douyin has reached a balance in gender and has also attracted more mature users with purchasing power. Comparing Douyin with Tiktok, we can observe that Tiktok is experiencing a similar early stage in the international market (dominated by teenagers and male users). We believe that within years of healthy development, Tiktok will attract more mature users and female users just like what happened with Douyin.
You may have also heard that Douyin has a local competition called Kuaishou (Kwai). However, Kuaishou (Kwai) is relatively less successful in international market.
Even in Chinese market, there are lots of differences in their strategy:
If we say Douyin strategy is top-down, dominating users' mind in high-tier cities; Kuaishou is more bottom-up, getting popular in lower-tier cities and towns.




Douyin's slogan is "record beautiful life" by offering something cool, trendy and young. Naturally it attracts more KOLs and influencers; while Kuaishou's slogan is "record life, record you", focusing more on the democratization and decentralization of content, attracting people from all walks of lives to share their talent.



For the same reason, Douyin is attracting more fashion and luxury brands to enter than Kuaishou.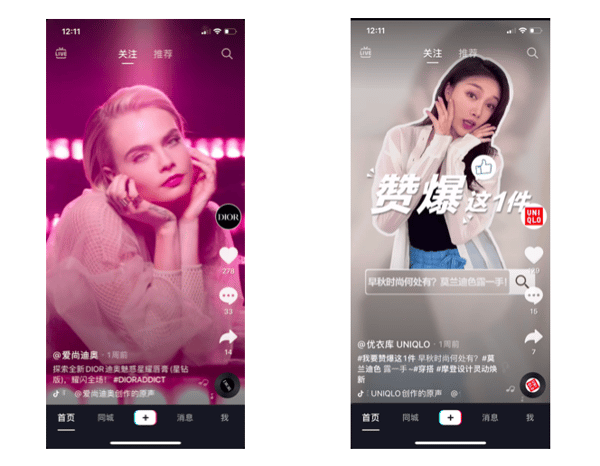 DIOR and UNIQLO on Douyin
Grabbing the chance with Adsmurai
Adsmurai can help you leverage the power of short video platforms: Tiktok and Douyin. Douyin is an effective platform for e-commerce sale, especially for certain categories such as FMCG. There are different types of campaigns designed for your need, either for branding or performance.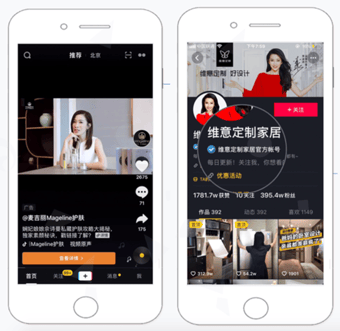 Douyin in feed ad, traffic driven campaign.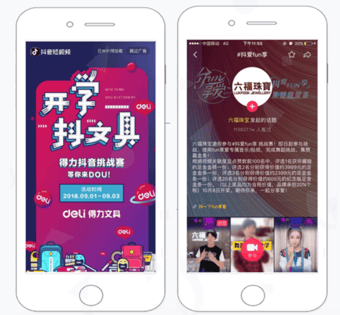 Douyin hashtag challenge, engagement driven campaign.
If you are looking forward to expand your business in China, Europe, US or anywhere else... Contact us!