Google is not only the most popular search engine in the world, it is also one of the best places to advertise online.
Considering that there are almost 4.39 billion users on the Internet and that the number of Google users worldwide is almost four billion, it is important to ensure that your ads perform successfully.
Based on the guide developed by Google to help you with your search advertising strategies from the initial planning phase, we bring you a selection of best practices in Google Ads.
TABLA DE CONTENIDOS
#1 Reach new customers with Google Ads campaigns
According to Google, 3 out of 4 customers today use search engines to find a product or service, so it is very important that your ads are shown to the right person at the right time. Keyword targeting, video format or display campaigns are some of the options Google has to help you connect with new customers when they are in the middle of the search process.
Select the right keywords for your strategy
Google Ads works through keyword targeting. Matching these terms to user queries, i.e. allowing customers to find you, is the central exercise you should carry out in your Google Ads campaigns.
To find the keywords, we recommend you to go directly to the sources: Website, products and your brand terms. Another good option is to study the search process of users and make sure you are visible at every step. In addition, if you manage to find those words in your sector that immediately incite consumption or analyse other websites in your vertical, you will get the most out of your keyword list.
Once listed, it is time to organise them into groups for easier management and maintenance of your Google account. Keywords are often grouped at campaign level for better control of the overall budget. Remember to analyse your list and eliminate those terms that have a low search volume. Also keep in mind that shorter keywords (2-4 terms) and those with less than 30 characters generate more clicks and impressions on average.
Do you know the difference between short-tail and long-tail keywords?
Short-tail: These are keywords made up of a single term and with a high volume of searches. They are usually generic, so they have a lot of competition. If you manage to position your brand in one of them, the volume of traffic you will get will be very high.
Long-tail: These are keywords made up of 2-3 terms, less searched for but more specific. They have less competition so it is easier to position for them and you get to reach a very specific audience. With this type of keywords, the results are usually long term.
Making an exhaustive selection of keywords will make your chosen keywords more competitive in the Google Ads auction. Don't forget to add negative keywords on a regular basis to save money, it is a way to avoid clicks from users who will not convert into customers.
Use video ads for greater reach and awareness
Reaching a wider audience also means diversifying in formats to squeeze all the possibilities your company has on Google.
To reach a mass audience and increase metrics at the top of the conversion funnel (awareness), YouTube and its more than 2 billion monthly active users have proven to be the ideal platform.
The video format will help you maximise the impact of your campaigns. Activate CPM (cost per thousand impressions) bidding to optimise your campaigns and get your ads to reach as many of the right users as possible. CPM video ad formats (bumper, In-stream skippable and non-skippable) will be intelligently delivered to users.
We also recommend that you enable Google Ads conversion tracking across your entire website to better understand the customer journey and use the information to make optimisations based on conversion events.
Other uses of the Google display network
Do you know the difference between the search network and the display network? There are many types of campaigns in Google Ads and these are chosen according to your objectives.
The search network will allow us to advertise in Google search results, Google Maps or Google partners, and will help us to get leads or potential customers through text ads. The display network goes one step further, and allows us to publish different types of ads on Google's partner websites and not on search results. Display campaigns are usually focused on branding objectives and long-term strategies.
As you might guess, display and search ads reach customers in different contexts, so you need to manage them separately. This way you will reach the right audience at the right time.
Where can your ads be shown on Google?
#2 Show the right message to your audiences on Google Ads
Connecting with your customers in an efficient way is the key to engaging them with your company and meeting your campaign objectives. Search ads, quality score or including YouTube as a placement will allow your campaigns to capture users' interest at key moments and display effective messages.
Create effective search ads
Search ads allow us to show products and/or services to potential customers so that they can find out about our offer and take actions of interest to us. Here are some recommendations to make them effective:
Highlight the advantages of your offer for users.

Link the title and description to keywords.

Use more than four extensions in each ad.

Test ad variations to optimise your campaign based on user preferences.

Tie your ads with Smart Bidding and broad match keywords to show the most relevant users with the right bid in each case.
In the case of using broad match, remember to negative keywords to avoid users who are not relevant to your search terms. Alternatively, you could change the broad match to a modified broad match to give you a little more control.
Use the Google Ads Quality Score to optimise your ads.
At Google, the quality score is not a performance indicator but a diagnostic tool. It shows you the status of your ads and keywords so that you can understand the situation and manage your account accordingly.
Ad quality is based on three main components: ad relevance, predicted CTR and landing page experience. The assessment of all three is used in the ad auction, but not the overall quality score.
We recommend that you make sure they are working properly and optimise your ads to improve them. This way, your ads will be more competitive in the auctions.
Use YouTube to reach audiences at all stages of the funnel
We've talked about search and display, but don't forget about video campaigns. According to Google, users pay three times more attention if the ad is in video format and they are interested in the content.
Use Google's advanced audiences to determine the most appropriate audience on YouTube for each of your marketing goals. It's the way to get your ads in front of the right people and get them to take action on YouTube.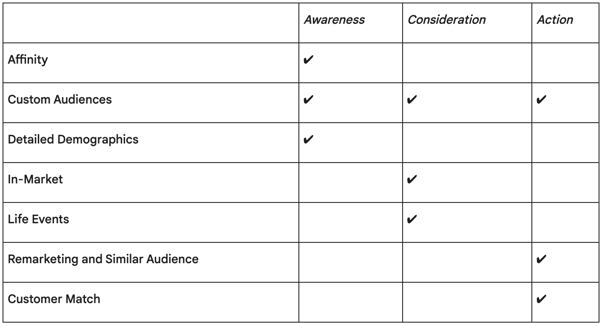 Don't forget to create your video campaigns in the same account as your display and search campaigns so that conversions are not duplicated.
#3 Optimise your Google Ads campaigns to maximise performance
As good digital marketers, we don't just want to launch Google Ads campaigns, we want them to get the best possible results. Hence, the importance of optimising ads for maximum performance. In the case of Google, how can we do this? Let's discover bidding at auction, the benefits of Google Analytics and Google attribution.
Improve the performance of your ads with time-of-auction bidding
If you are looking for better, more informed and time-saving bidding, we recommend: Smart Bidding. This is an automatic bidding strategy that allows you to bid according to the user's context at the time of the auction. In other words, one bid per query.
Through machine learning and factors such as the number of words in the search query, the type of match, the most specific device (including OS), browser, language or time of day, Google defines the best bid in each auction.
The signals obtained by the Google algorithm help Smart Bidding, e.g. remarketing lists or the creatives used. Everything is taken into account at the time of the impression to the user in order to obtain a bid that is adapted to the needs and objectives of the business.
Optimise your Google Ads with Google Analytics
Linking Google Ads to Google Analytics will improve your messages, your bids and your performance. Google Analytics is a tool that allows you to measure the impact of your website and user behaviour on it. This information will allow us to get to know your users, explore their behaviour, measure interactions and analyse the performance of their actions.
All these metrics will allow us to optimise Google Ads by: creating personalised remarketing lists; grouping users of your website according to their probability of conversion; discovering the campaigns, keywords and ads that generate the most interaction with your website or knowing the percentage of new sessions to find out which terms attract the most new users.
Define attributions correctly in Google Ads
With today's multitude of channels and devices, customers' journey through the conversion path can be long and complex. They may interact with multiple ads from your brand, so attribution models allow us to understand how each user interaction with an ad contributes to conversions. We can also more accurately determine the performance of ads to optimise them along the user journey.
What are the other benefits of attribution models?
Reach customers at an early stage of the buying cycle, much earlier in the conversion path.

The variety of attribution models also allows you to tailor attribution to your business needs.

Get more complete information about the performance of your ads, allowing you to improve your bidding.
Typically, advertisers measure their campaigns on a "last click" basis. That is, the conversion is attributed to the ad where the last click was made and its corresponding keyword. This implies that possible user interactions with the other ads in the campaign along the conversion path are lost.
We recommend that you choose the most appropriate attribution model for your business: last click, linear, decay over time, data-driven... And then act on your choice to get a more realistic idea of the value of keywords and ads that will allow you, once again, to define bids and targets.
#4 Re-engage your customers with Google Ads retargeting campaigns
Precisely because of the complexity of today's online conversion paths for users, it is very necessary to include remarketing strategies in your campaigns (also known as "retargeting" in other platforms). In other words, re-engaging the user with ads when they have already interacted with your brand.
For example, we can apply remarketing techniques to users who have previously opened our emails or simply visited our website. Let's talk about two practices that Google recommends to re-engage your customers: customer list targeting and dynamic remarketing in display campaigns.
Segmentation by customer lists
One of the targeting options offered by Google Ads is "customer list targeting". This tool will allow you to achieve many business goals, from increasing brand awareness to increasing conversions.
Through the use of online and offline data provided by your customers, you will reach your customers and re-engage them with ads in Search, Shopping, Gmail, YouTube and Display. In addition, you can also impact users similar to your existing customers.
Do you know the benefits of this type of segmentation for your business?
Offer your customers a different product or service that they might also be interested in and cross-sell.

Find similar customers based on your customers' information.

Reach out to your existing customers with special messages and offers.

Reactivate inactive customers.
In order to carry out customer list targeting you will need to upload all the information (email, phone numbers, postal addresses...) to be able to create an audience of potential customers. According to Google, advertisers who have uploaded two types of information have seen an average increase of 28% in their customer lists, and with three types, the increase has been 35%.
For best results, we recommend that you update your targeting lists frequently. Another piece of information provided by Google, with updated lists we observe an average increase of 17% in traffic and conversions.
You can complement customer list segmentation with the use of lookalike audiences to find new customers interested in your products or services based on the characteristics and behaviours of your registered customers.
Use dynamic remarketing in your campaigns
As mentioned above, remarketing allows you to show your ads to users who have previously interacted with your website or mobile app. In the case of dynamic remarketing, we can show those users ads with the products and services they have already seen.
And what does this allow us to do? It's easy. What dynamic remarketing will allow us to do is to push the user to finish what they started. In other words, leads and sales.
There are 3 essential elements to be able to set it up and use it:
Feed or catalog of products or services
Website remarketing tag with custom parameters. Tags collect the customer data you need to create effective data segments. With Google Tag Manager you can tag your entire website.
Adaptive display ads
We recommend that you include your complete product catalog with relevant images, titles and prices, and keep it always up to date. It is very important that the feed meets the requirements of the platform, the system rejects inaccurate or incomplete catalogs to avoid a bad user experience.
One last tip related to the catalog, start with the best performing products and services (those that you sell the most and for which you have comprehensive data). This will allow you to maximise the return you get from optimising your feed.
#5 Give visibility to your products with Google Shopping campaigns
Today's consumers shop anywhere, from any device, at any time. For this reason, it has become important to be present when someone has the intention to buy.
Create and optimise your Google Shopping campaigns
And that is precisely what Google Shopping campaigns allow you to do, an opportunity to present your products to online customers. In this type of campaign, it is essential to have a well-defined structure in order to achieve your goals. Therefore, before designing a plan to achieve results, we recommend that you define the objectives of your campaign and the metrics by which you will measure success. What do you want to achieve with each product? How can you organise your inventory?
Once this step is established, it is time to choose the right bidding strategy for your campaign. This will have a direct impact on the visibility of your ads and their results. Choose between Smart Bidding or manual bidding depending on the audience of your Shopping campaign. If you have more than one audience, differentiate the bidding for better results.
Finally, don't forget to optimise your Shopping campaigns to achieve your goals. Through comparative metrics such as comparative CPC or CTR, impression or click-through rates, you can evaluate the performance of your ads and make informed decisions to refine your bidding strategy.
Make sure your Shopping campaigns, your showcase to attract online shoppers, contain the right and up-to-date information. This will ensure that your brand is always useful and attractive to shoppers.
BONUS: Performance Max Campaigns
These best practices could not end without talking about Google's new type of campaigns: Perfomance Max. Do you know them?
These new performance-driven campaigns give you access to the entire Google network with a single campaign. Based on your advertising goals, conversion goals and audience signals, your ads are shown to the right audience at the right time.
Perfomance Max builds your ads from images, videos, titles, descriptions, logos and audience signals you've added to your resource pool. These are automatically mixed and matched to find the best performing composition based on the Google channel your ad is appearing on: YouTube, Display Network, Search, Discover, Gmail and Google Maps.
Basically, with Google automations you get a better performance for your ads and a higher number of conversions for your brand across the entire Google network. You get to show to a highly converting audience with the right combination at the right time.
We definitely recommend including this type of campaign in your Google Ads strategy.
In case you miss a chapter of our guide, grab some coffee and let's dive into it.

Subscribe to the newsletter!