Optimising your Meta campaign ads will bring huge benefits to your brand. Know your audience, target them, adapt your ads according to your objectives and interact with your users. Whatever your brand's target, Meta is definitely a platform that your Paid Media campaigns should take into account.
TABLE OF CONTENTS
How to optimize Facebook Ads campaigns
Including Facebook in your digital marketing strategy is a safe bet. Despite the great advantages that Meta offers your brand, make sure you follow our step-by-step guide on how to run a Facebook Ads campaign and don't miss our recommendations on how to make your campaigns perform better.
1. Create A/B tests for your Facebook Ads campaigns
One of the tools you really need to optimise your Facebook campaigns is the A/B test. This technique consists of launching two versions of the same advert and assessing which is the best option according to the results obtained, and Facebook's own platform offers you the option of creating these A/B tests. In addition, they recommend this option to measure possible changes in a campaign or to make a quick comparison of two strategies.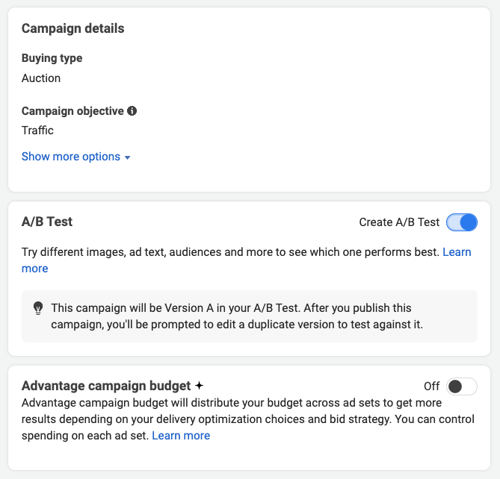 You have multiple options when performing A/B tests, choose the one that suits you best according to your objectives. You can use this technique on specific ads or on a set of ads. Here are some examples of elements you can consider before running your A/B tests:
Ads
Images

Copys

Text length

CTA

Text structure

Ad formats (different layouts)

Use of emojis

Title and description in preview
AdSets
Gender

Location

Audience type (interests)

Landing page
An essential thing if you decide to incorporate A/B testing into your Facebook optimisations is to analyse the results. It is very important to wait at least 24 hours to analyse the results after launching a test, so that Facebook's algorithms have time to optimise the campaign. Don't rely on the results of a hasty analysis of the results, wait until your campaign has reached at least 500 clicks and 10,000 impressions before drawing conclusions.
Once you have tested all the elements you are interested in, it is time to apply the results to your strategy. Take into account those elements that have performed the best and stop those with the worst metrics. Redirect budget to the winning elements and invest in creating new variants.
2. Create Facebook ads for each audience group
Let's start at the beginning. Do you know how to run a Facebook Ads campaign? It is important that you know it perfectly, this will help you to know the possibilities offered by the platform and to optimize your ad campaigns in the most effective way.
As we have advanced in the previous point, segmenting ads by type of audience will favor the optimization of Facebook Ads in your campaigns. Users with different interests interact differently with the same content. That's why you need to know which interest works best, you just need to create a set of ads for each interest.
The more targeted your ads are, the more relevant they will be to your users and the more conversions they will generate. That's why one technique that will help you increase conversions in your strategy is audience targeting. Once you have identified the different audiences that make up your target audience, create specific ads based on the characteristics of each one of them.
Depending on the interests of a user, they will be grouped into one audience segment or another, which the brand will take into account when creating its ads. This will ensure that the user will find advertising that responds to their needs and is directly adapted to their characteristics. Therefore, it improves the experience for both the user and the advertiser.
If you want to know more about the users you want to reach, you can do it with Audience Insights, a tool that will allow you to obtain information about your audience so you can adapt your content.
3. Use automatic placements offered by Facebook Ads
The different places where we can show Facebook ads are called "locations" and have a big influence on the optimization of your campaigns. The platform offers the option to add locations manually or automatically. The automatic option will help you optimize your posts across all locations.
The Facebook platform itself recommends the use of automatic placements, when you choose this option, the algorithm analyses which placements are best for your Facebook ads and places them there. Therefore, your ad will be automatically re-assigned the moment the platform detects that there is a more optimal location to place your ad. In addition, the use of automatic placements will help to reduce your costs and use your budget more efficiently.
How to select automatic audiences?
Log in to the ad manager of your Facebook account.

Choose "targeting" and click "continue".

In the Audiences section you will see that "automatic audiences" is checked by default.

You can delete placements in the "edit placements" box.
4. Target your Facebook ads by device
Segmenting your audience as much as possible will favour the impact of your ads on them, as well as the final conversions. The objective of targeting is to identify as specifically as possible the characteristics of your target audience.
That is why we have previously talked about audience targeting techniques by interests, but there are also other targeting options. In this case we are talking about targeting by device, this option will allow you to know where, when and on which device your ads will be shown.
The platform offers different options if you want to segment your audience by device. Let's take a look at some of them:
Target devices by location. Once you have selected the type of placement you want for your ad group, you will find the option to choose which devices you want your ad to be shown on. This option allows you to edit in detail the devices on which your ad will appear. (Device type, operating system, brand, model...) You can also exclude certain devices.

Behavioural targeting. It is very common for the same user to own more than one device, which is why this option allows us to know if the user owns a type of device regardless of which one they are using at the time they are viewing the ad.
Device targeting will help you to better define your audience and reach your goals more effectively. The more you know about your audience, the better you can tailor the content of your Facebook Ads campaigns.
5. Install the Facebook Pixel
If you want your ads to reach the audience you want and increase your conversion metrics, don't hesitate to set up the Facebook Pixel when you decide to create your campaign.
How the Facebook Pixel works
The Facebook pixel will allow you to reach those people who are most likely to take the actions you propose in your ads. It also allows you to track the conversion levels of your campaign and facilitate further optimisation.
With the Facebook pixel you can find out, for example, when a user has added a product to the cart, marked a product as a favourite, initiated a payment or made a purchase. In addition, this tool offers the option to track user behaviour and allows you to re-engage with users who are interested in your product but have not completed the purchase process.
On the other hand, it offers the option of reaching more potential customers, as it is the tool itself that allows you to create audiences or similar audiences through the collection of data from the users of your website.
6. Constantly check the average frequency of your Facebook Ads campaigns.
Facebook offers us a large number of metrics when carrying out a campaign, but we have to be clear about which are the ones that really interest us and are relevant in order to meet our objectives. One of the most important metrics is frequency.
This measures the average number of times that each user of our segmentation has seen the campaign ads. If the average frequency is higher than 5, the performance of our campaign could be affected. Therefore, it is very important that you regularly monitor the frequency throughout the campaign.
The performance of an ad can decrease for many reasons, one of them is what we know as ad fatigue. This is the moment when the user gets used to an ad, hates it and stops paying attention to it. By analysing frequency, we can find out if a campaign is decreasing its effectiveness and modify what is causing it.
7. Take into account the Learning Phase of your advertisements
A campaign goes through different phases before it becomes active and it is important that you pay attention to each of them, especially the Learning Phase.
What is Facebook's Learning Phase?
It is the learning phase of the algorithm, when the campaign achieves 50 conversions per ad set, it stabilises. If 7 days pass and the algorithm is still in the Learning Phase, the status will change to Learning Limited, in this phase the costs increase and the conversions decrease.

How can we moderate the Learning Phase?
There are different factors that will help us to control the learning phase:
Targeting. Larger audiences are more likely to convert enough to get a set of ads out of the Learning Phase faster. For this reason, Facebook recommends maximising the audience we have the broader the better. This can be achieved by expanding geolocation, genders, ages, retargeting windows, broader LAL groups, etc.

Liquidity. The more complex the campaign structure, the more difficult it is for the algorithm to interpret. It is recommended to reduce the number of ads and ad sets to the bare essentials. One way to achieve greater liquidity is to use automated placements, which will reduce the number of ad sets and the complexity of campaign placement.

Budget. If you set the budget too high or too low, the system will not correctly determine who to optimise for. You should set a budget sufficient to get a minimum of 50 conversions in total as quickly as possible and avoid changing it frequently, as this can push the ad set into the learning phase.

Optimisations. If a conversion event occurs less than 50 times in a week, your ad set may need to be optimised with a more frequently occurring event. Avoid making unnecessary changes that put your ad groups back into the learning phase.
The Learning Phase is necessary to optimize ads and create new strategies for your campaigns, so don't skip it.
Follow these tips on how to optimize Facebook ads, increase ad conversions and reduce campaign costs. In addition, it will help you stand out from the competition and achieve success as was the case with Sufi.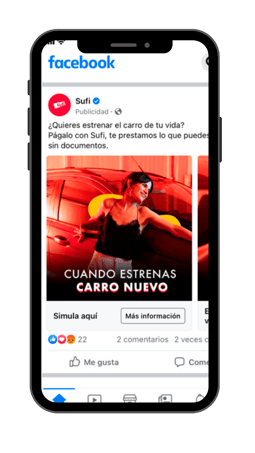 Sufi is one of the brands created by the Bancolombia Group and focused on the sale of auto, consumer, health and education loans. With a correct strategy in Facebook Ads based on dynamic ads in image format, carrousel and Stories optimizing the segmentation of its audience, it managed to increase by 76% the conversions of its ads and reduce by 48% the cost of the forms that appeared in them.
8. Follow recommended best practices
Facebook has more than 2.7 billion monthly active users, so it is very likely that you will meet your potential customers on this platform. However, as Facebook grows, so does the competition between brands to get the user's attention.

It is very important that you try to be as creative and original as possible when creating your content, this will help you stand out from the competition. If your goal is to optimise your Facebook Ads campaigns, you should take into account the following compilation of best practices.
Best practices for Facebook Ads
1. Create Facebook Ads that are specific and relevant to your audience
Have you ever wondered what is less important for your campaigns: getting more audience volume or getting a more qualitative audience?

Definitely, getting a higher quality target should be one of the goals of all your campaigns. Otherwise, you will only get a lower relevance score for your ads and less qualitative data to work with.

As we have seen, Facebook Ads offers a large number of criteria to segment the audience: demographics, interests, location... This allows you to reach a specific audience interested in your product or service and with a higher possibility of conversion, excluding those users who are not part of your target audience.

Relevance is one of the key aspects for your Facebook campaigns to be successful. Depending on the settings you have selected, remember that you are spending money when someone sees or clicks on your ad. If your audience is not relevant, you will be spending time and money without getting good results. Similar to the Google Ads "Ad Rank" system, Facebook also has a feature that scores your ads based on how relevant the image, copy and landing page is to your target audience.
2. Make your Facebook ads stand out with consistent visuals
Being consistent on a visual level is key to capture the attention of your potential customers and consumers, as well as boosting brand recall. Try to keep the same line or style in all your campaigns and include connecting elements in all your visual elements (colours, composition, graphic design). Well-designed advertisements reflect quality and this will give users an extra sense of trust in your brand.
3. Take advantage of Facebook formats to customise your Ads
Facebook offers a wide variety of possibilities in terms of ad formats. Take advantage of them to test and find the perfect combination for your brand to achieve better results.

Customise your ads according to the location where they will appear and remember that each format has specific specifications according to each platform.


Keep in mind that Facebook's algorithm treats visual content favourably and, in turn, users are also more likely to share it. Remember that video content has a higher organic reach. Try to make it valuable without audio, as most are activated without sound and it is up to the user to decide whether to activate it or not.
4. Align copy and hashtags with your Facebook Ads campaigns
There are many articles on how to write your Facebook Ads texts, let's focus on the basic recommendations for the copy and hashtags of your campaigns.
The title should be eye-catching and hook the user with an attractive value proposition. The description should summarise in one sentence more detail about the message of the campaign.

The title should be no longer than 25 characters and the message no longer than 90 characters.

Use short, fresh text to accompany the intent of the image or video.

Include 3 relevant hashtags embedded in the text so that interested people can easily find you.

If your image is made up of text, make sure it does not exceed 20% of the composition. Putting too much text in your images will cause the platform to penalise you with a much lower reach than expected.

Create your ad in different languages and let the platform display the ad according to each user's interface settings.
In addition, aligning text and hashtags with visual elements in a way that makes them relevant to the target audience will give your campaign the personalisation effect that will increase the likelihood of conversion. It will also improve the relevance score of your Facebook ads and their performance.
5. Make your audience react with call-to-action buttons.
An ad should be well designed and relevant to the audience, but don't forget to add a CTA or call-to-action button for users to interact with it.

Experiment and mix and match different buttons depending on the ad format and the objective of your campaign to find out which ones work best for your audience. The CTA should encourage users to click on your ad to take a specific action.



Facebook remains an important platform for launching your Paid Media campaigns. These tips and best practices for optimising your Facebook Ads campaigns will help you maximise the effectiveness of your campaigns to achieve your desired goals.