Common problems when setting up DPA campaigns in Facebook
Since Facebook introduced Dynamic Product Ads (DPA) on January 2015, their importance for e-commerce businesses keeps growing more and more. The possibility to serve ads based on the specific product someone viewed or added to cart, across all devices, regardless of which device a user was on when they initially interacted with the brand, is very powerful.
Despite its big potential, there are still retailers resisting to use DPA because of some difficulties experienced when launching this kind of campaigns.
Common problems when setting up DPA campaigns
Importing multiple feed formats
To set up a DPA campaign you need to create a product feed from your catalog. There are two options to do that on Facebook: a dynamical uploading of your product and metadata or a manual uploading of a .csv file.
Some retailers experiment a first problem at this step because at the moment Facebook supports only some feed formats (CSV, TSV, RSS, XML, ATOM XML) and some of the most used online shopping platforms don't dynamically generate a compatible product feed.
If you use our software, Adsmurai Marketing Platform, you can solve this with Feeds tool, as
it converts any incompatible product feed into the format
required from Facebook.
Pre-processed pictures and brand template
We all know how high quality overlays can influence the performance of the campaign (ROI), conditioning user responses and decisions.
The big benefit of the DPA of dynamically generating an ad from the feed metadata
(picture, price, description, size, availability, etc), faces many times with Facebook's automatic adjustment of the pictures. Indeed depending on the original size of the images the final result can be ineffective and not really appealing.
In Adsmurai Marketing Platform this can be solved with Creatives tool, a special pre-processing feature that enables to adapt the picture that will be used in the ads guaranteeing a correct positioning of the image in the ad frame without loss of quality.
In addition to this, you can also
add to the pictures customized brand elements
such as the logotype, the slogan, a special frame, the discount we want to apply, etc. As final result of this pre-process phase we get more eye-catching, effective and customized creatives and no more head cut models.
Enhance and encourage up-selling and cross-selling
In addition to the re-marketing strategy, DPA enhances the possibility to do cross-selling and up-selling, showing to the user similar and complementary products in order to increase the conversion value.
That means creating a campaign with multiple ad-sets structure, one for each group of products that want to be shown. Considering for example a fashion e-shop, they should create many ad-sets. For example: brand X trousers, brand Y trousers, brand Z shirts, jackets, shoes, blouses, dresses… To reproduce this structure the advertiser should repeat the ad-set creation process many times as the number of the product sets they want to include, and that would require a huge amount of manual work and time.
In Adsmurai Marketing Platform you can reduce all this process to just one click. Making a split by category,
the system distribute automatically all the products in their respective ad-sets in order to fully exploit cross-selling and up-selling
.
And we still go further. Thanks to a special algorithm
the system selects similar or complementary products to the one the user viewed,
taking into account those that achieved the best results in terms of number of sales or conversion value to optimize the campaign budget.
Dynamic ads keep up to date with your business so you only show products that are in stock and at the latest price. To make it possible, Facebook allows to refresh the product feed every 24 hours. Nevertheless it could not be enough. When you have a limited product stock or an unexpected number of sales, or the prices are constantly changing as for example in sales seasons, a constant updating is necessary to reach your client with the right product and avoiding possible discontents.
For that reason Adsmurai Marketing Platform keeps constantly connected with the website, refreshing the product feed every hour,
ensuring concordance between what is shown in the ads and the product stock availability, the price
or any other information that could change.
In this way we avoid wasting the campaign budget promoting products out of stock and disappointing potential customers that won't find the product they viewed in the ad.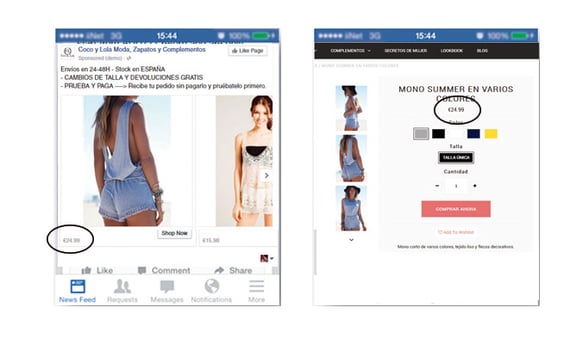 Thanks to the all the mentioned advanced features, Adsmurai Marketing Platform is able to amplifying the benefits of the DPA: showing to the potential customers relevant and available products at the latest prices, in an appealing and brand customized way, saving time and resources in the campaign creation process.