Tips to make your digital marketing strategy succeed in Black Friday
Without a doubt, Black Friday is the biggest shopping day of the year. All brands compete with each other for the attention of users, so it is essential to have a competitive strategy.
A good starting point for planning your Black Friday digital marketing strategy is to analyse the history and profitability of your Black Friday campaigns to see exactly what worked and what didn't in previous campaigns. It's important that your Black Friday strategy and campaigns are aligned with your company's annual objectives - it's a good time to review them and think globally! Also, don't lose sight of your competitors' strategies, they will be your direct rivals during the occasion.

With all this in mind, let's take a look at 10 tips to make your Black Friday digital marketing strategy a success.


Tip #1: Have your Pixel set up well before Black Friday and create campaigns with targeted audiences.
The pixel is one of the pillars of your Paid Media strategy. The objective of any digital advertising strategy is that the investment is effective and for that we need a tool that effectively receives everything that happens around our website.
Including
the conversion pixel in your digital strategy
and having it well configured is essential to track user behaviour. For example, one strategy you could follow for your Black Friday campaigns is to create campaigns with better targeted audiences, reducing your cost per click (CPC) and improving your return on investment (ROI).
Download here the

checklist

of typical errors when installing the conversion pixel.
Tip #2 Make sure you have optimised your product catalogue before Black Friday to improve the ROAS of your campaigns.
The catalogue or product feed is another of the basics for launching Paid Media campaigns. Take advantage of the weeks prior to the launch of the Black Friday campaign to optimise it and keep it always updated in order to constantly control the stock.

Each of these platforms has its own requirements for configuring the product feed and it is very common for this file to contain errors that can affect the ROAS of your campaigns. These are the 9 most common ones, do you have them configured correctly?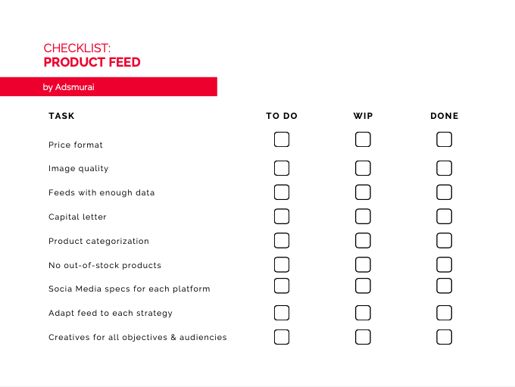 Tip #3 Think "out of the box" and create original Black Friday campaigns.
Your Black Friday strategy should be specific to the occasion, ideally thinking about a longer-term action in order to target users at all stages of the funnel.

It is a time full of promotions, try to think "out of the box" so that your digital marketing actions are original. Don't hesitate and make the most of each ad format to get the most out of it.

Remember to clearly mention that it is a Black Friday promotion. On that day, any other promotion will not be profitable because the consumer is focused on finding Black Friday offers.
Tip #4 If your strategy is to get leads, take advantage of Black Friday to launch recruitment campaigns.
Black Friday is also one of the busiest online traffic dates. Use the occasion to create a strategy to get leads that will serve you for the rest of the year. Lead generation starts in the attraction phase of the conversion funnel and ends in the conversion phase.

Define which steps a lead follows until it becomes a customer (lead-to-sales journey). In order to map out the best strategy, keep in mind that there may be different paths depending on the size of your product or service offering.

Remember to align your business objectives with your marketing objectives. Translate those goals into metrics and set deadlines for their achievement on Black Friday.
Tip #5 If you are looking for an innovative Black Friday strategy, use cross selling and up selling to increase the value of your product.
Maybe you are looking for an innovative strategy for this Black Friday, have you tried to increase the value of orders? Do you know about cross selling and up selling?

One of the most common uses of the pixel is to create retargeting audiences. This type of audience allows you to personalise your ads based on the information collected by the pixel events. It also allows you to optimise ad delivery to target audiences that are more likely to take an action on your website.

So if you're looking for a more innovative strategy this Black Friday, this is one recommendation you definitely shouldn't overlook. Once you have analysed the pixel information, you can launch ads that tempt users with complementary or related items to purchases they are thinking of making (cross-selling) or offer a similar product to the one they have added to the cart, which is of a higher range (up-selling). For example, how about a Shop by Look?
Tip #6 Include a classic Black Friday strategy: Collaborate with influencers.
Influencers bring fantastic value to a marketing campaign. They have built a very high level of trust with their engaged and interested community. By collaborating with them on Black Friday you can significantly increase the conversion rate of your campaigns.

Look for one or more influencers that fit with your brand, both in terms of content and values to promote. Study the engagement they have with their community, it is one of the most important aspects to take into account. Also ask yourself other questions to find out if they fit with your brand: What is their number of followers? What are these followers like? Do they belong to your target audience? What budget do they ask for?

Do you know the role of micro-influencers and why they have become the alternative for businesses? Discover other factors to take into account when collaborating with them in our ebook.

Tip #7 Video, your best ally. And even more so on Black Friday.
Undoubtedly, video is the format that has been the most popular in recent months and will certainly continue to be so from now on. It is a format that gathers a lot of information in a few seconds and still has much more impact, and the results can be extraordinary!
Add to your digital marketing strategy new platforms such as TikTok, Reels,

Twitch

... Did you know that TikTok in Spain has more than 17M users with an average of 53 minutes of permanence in the application? Did you know that the viewing rates of Twitch ads are around 80%?

If your target is on these platforms, imagine what these figures can achieve on an occasion like Black Friday.
Tip #8 Don't forget to analyse your data and adjust your campaigns, both before and during Black Friday.
Both in terms of downloading the strategy and then analysing it, you need your marketing team to be able to turn customer data into actionable insights.

During the Black Friday campaign monitor and adjust data. Take control of all your brand data sources, optimise every step of the collection process and experiment with the opportunities you find. It is very common at this time of year, for example, for CPMs to skyrocket due to high competition.

Need tips on how to

maximise the ROAS of your campaigns

? Take a look at our recommendations to maximise it and boost your brand's performance.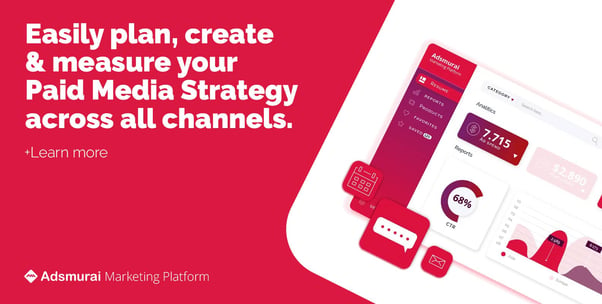 Tip #9 Consider the channels where you can impact your audience on Black Friday and create an interrelated digital marketing strategy.
When planning your strategy, consider all the channels you have available to reach your users and find a way to interrelate them.

Know the customer journey of your target audience and find the key moments in the buying process where you can impact them. This way, you will avoid creating different strategies for each channel and you will empower your global strategy.

This recommendation will also help you to personalise the content of your ads depending on the device or operating system that the user is using to reach you.
Tip #10 In addition to multi-channel, remember that the strategy is multi-platform.
Synchronising your strategy across different Social Media platforms is a basic recommendation for companies that want to ensure greater reach and impact at different points in the funnel. It is all about keeping in mind the objectives of the campaign and speaking to users according to the context.

This type of Black Friday strategy will help you to generate a constant frequency of the message throughout the customer journey of users. Remember! The message must be unique and recognisable. Creativity should vary, as each platform has its own language and codes.

Combining platforms with a large number of registered users will allow you to reach large-scale audiences. Still, don't forget applications with a smaller, but more targeted audience.