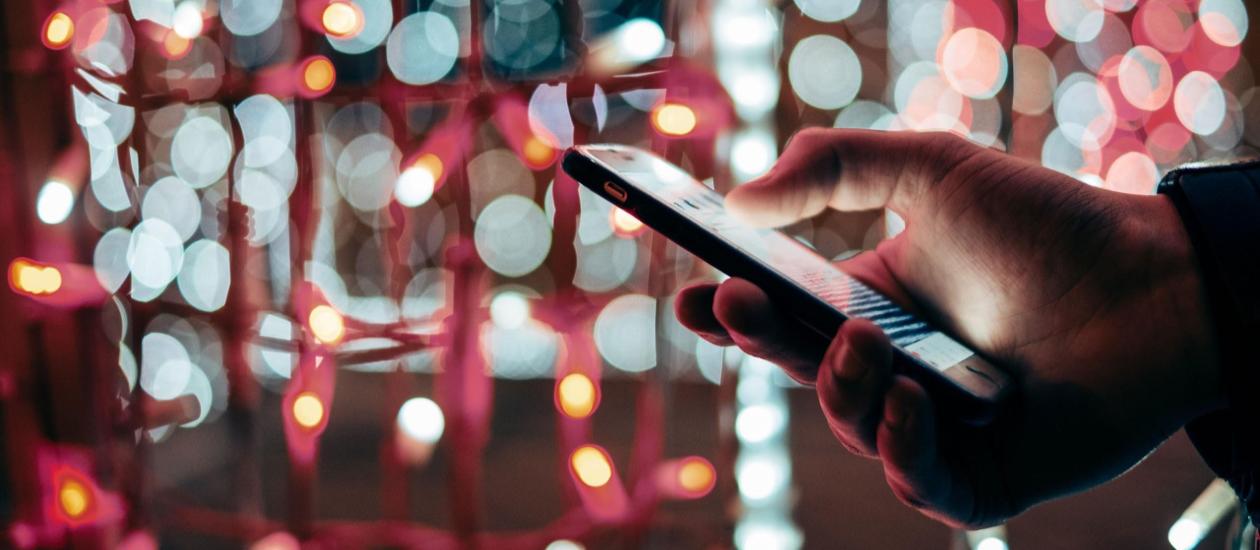 Ultimate guide to User-Generated Content: boost e-commerce sales with less effort
Increase e-commerce sales by putting in less effort. This is essentially what we'll be looking at today because this is what User-Generated Content (UGC) does for you.
Improving social media ads performance is a mammoth challenge in today's highly competitive marketplace. Revolutionary features such as the Instagram Shopping Checkout remove barriers to purchase, but how can you even attempt to sell your awesome products online without just being another voice in the crowd? Simple, use UGC to easily boost E-commerce sales, reach and engagement as well as cultivate customer loyalty.
So if you like the idea of your social media ads performance being taken to the next level, take 10 seconds to let us know.
We can't discuss how to boost E-commerce sales with UGC without a good old definition of our topic. So, what is User-Generated Content?
User Generated Content: Definition
A revolution in the online marketplace, advertisers can use photos and videos created by customers to increase reach, engagement, and sales. Acting as social proof and raising awareness, it benefits several KPI's, reducing CPA as it essentially does much of the work for us (creating and sharing content), ROAS and customer retention.
User-Generated Content vs online shopping
Selling online is simply a case of posting a picture of a product, setting up your ad on Google Shopping and hoping for the best.
UGC is the act of displaying your product in its true home, the place it will be when your consumer inevitably realizes that they need it.
Let's look at an example.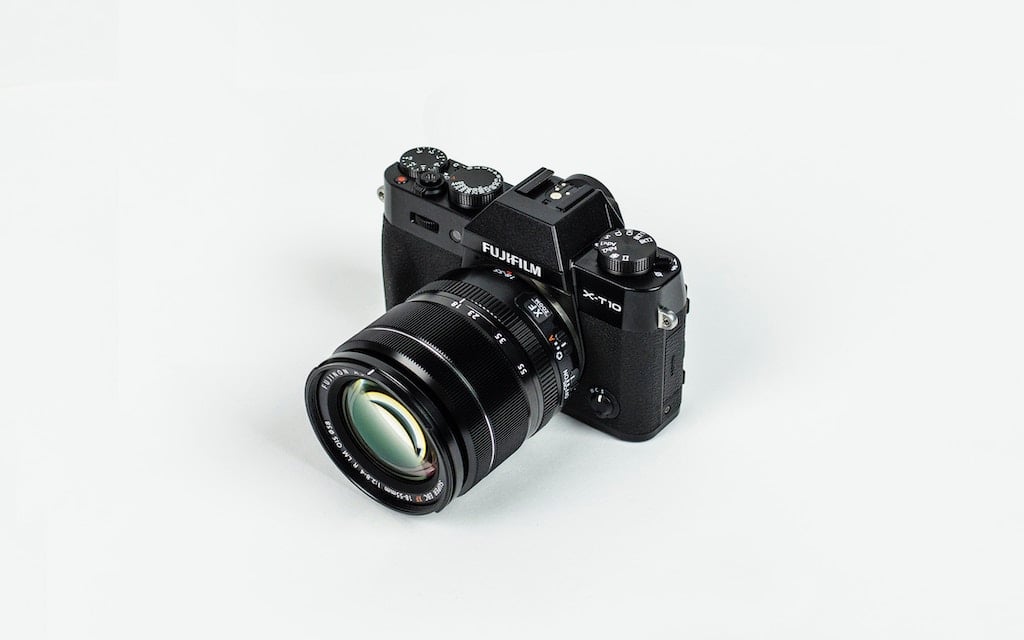 A state-of-the-art camera on a plain white surface? Sure it looks good and all the information about different settings, photograph quality etc will be underneath the image. Then it's up to the prospective buyer to make the decision.
Compare this with the image below, but see it as a consumer sees it.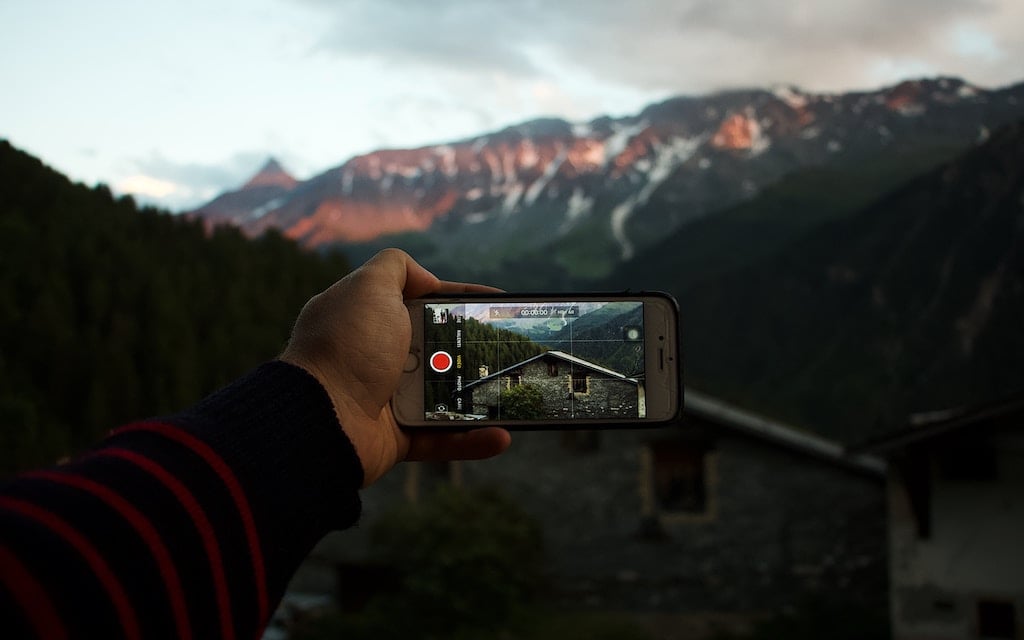 UGC takes the buyer on the journey to the realization that what they're looking at is a must have. It allows them to picture themselves using their camera to do what they've been dreaming of, the thing which prompted them to hop online and search for it.
User-Generated Content allows the person to see themselves taking wonderous shots of wildlife, or feel how cool it is to walk down the street in that leather jacket. They can almost touch it, smell it, feel themselves using it. This emotive part of the process is what gets us around one of the biggest obstacles facing eCommerce, the problem of not having the physical product like in a brick and mortar store.
Essentially, as a consumer, much of the thinking is done for you, the decision to buy is made easier, and thus the likelihood of a purchase increases. UGC does much of the hard work for marketers and as demonstrated, it does the same for consumers.
How can you use UGC to boost E-commerce sales
Improving user experience increases the likelihood of a sale, and this is exactly what user-generated content does.
Images with people in them convert higher than product only images, and truly authentic content converts higher still. Truly authentic means images that feature real people using the product, wearing the clothes, not images of photoshopped, almost perfect models.
"Images with people in them convert higher than product only images, and truly authentic content converts higher still"
Research suggests that 64% of consumers seek out reviews when considering making a purchase. There is clearly a demand for reviews and social proof, which brings me nicely onto the value of UGC.
It is the desire for reviews and social proof where user-generated content adds so much value. People are buying, using and loving your product, so it must be good, right? UGC brings awareness and reliability, two of the biggest challenges marketers and salespeople face.
The content acts as a visual review of your product, going hand in hand with showing real people using/wearing it, providing the authenticity that consumers are looking for.
"UGC brings awareness and reliability, two of the biggest challenges marketers and salespeople face"
Engagement, emotion, commitment
Don't worry I've not suddenly started talking about love and marriage, we're still focused on UGC. As social media (and the wider world) change, our aims and activities as marketers must change with it.
Engagement
Not long ago, likes and new followers were the interactions everybody clamoured for and we had to tailor our efforts to this. Over time, focus has shifted to different forms of interaction, it takes more effort to leave a reaction or a comment than a like, and so content with these more 'difficult' interactions are given priority in the news feed ranking.
Customers are more likely to interact with UGC, on Facebook, for example, UGC receives 26.06% higher average engagements per post than more traditional alternatives.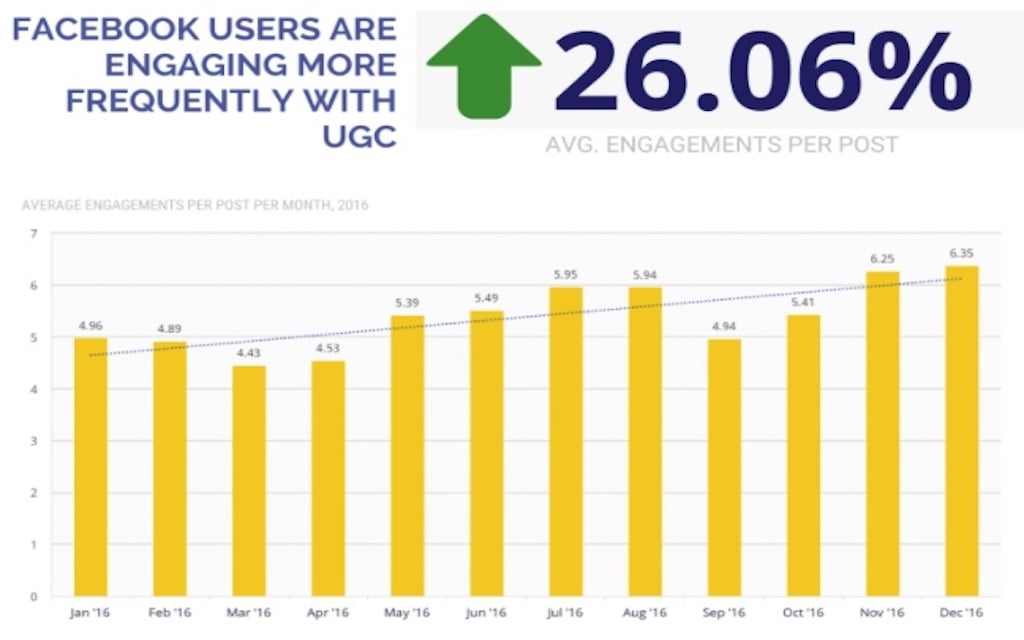 But what does this mean for you?
Use UGC, elicit more user interactions, appear higher in the news feed, increase sales. Simple!
UGC: providing reach & reliability to increase e-commerce sales
What your users say about you, is more valuable than what you say.
Nielsen Global reported that 42% of people valued recommendations from another person (in other words, a real, authentic opinion or recommendation) higher than branded content. The implications here? User-generated content is essentially, 42% more effective.
Consumers are more likely to engage with content from real people, engagement leads to emotional investment (trust and desire) in your product or even better, your brand.
Desire and trust in a product brings sales, if you can cultivate the same emotional investment in your brand rather than just in one product, you can bring consumers back again and again.
Expanded reach on social media
Creating content takes time, one of the big benefits of using UGC is that much of the work is done for you. You don't need to spend hours finding the right model, in the right environment, in the right pose and then spend more time touching up the image. So, you have the content ready in a fraction of the time, great!
But the benefits go further still…
Increased engagement (which we've already discussed) and finally expanded reach. Customers are promoting your product, your brand in their own networks, complementing your own organic reach and paid social ads.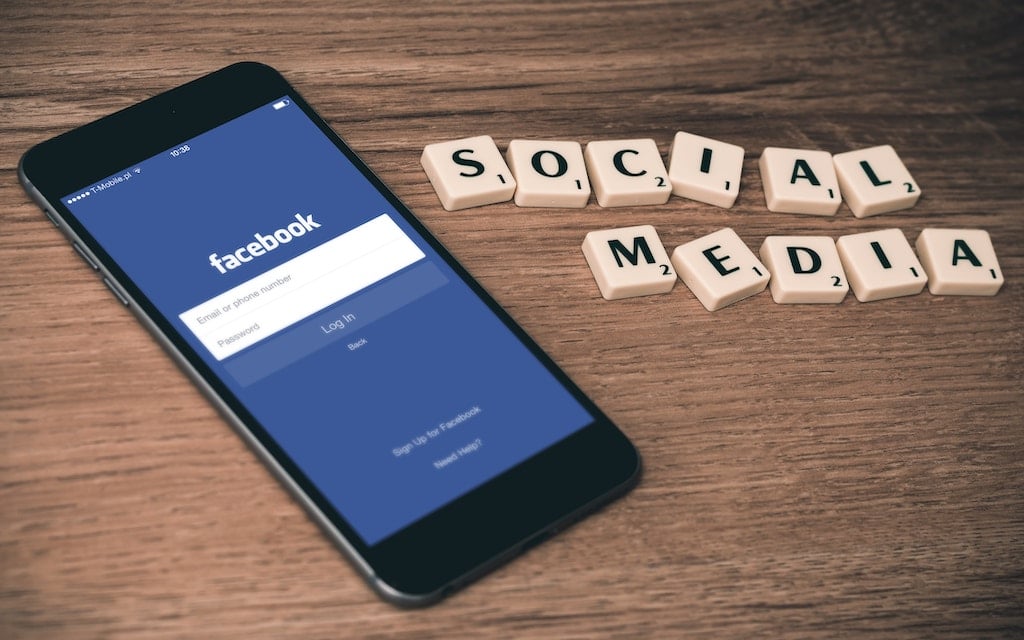 Social networks, namely Instagram, Facebook & Pinterest, give a snapshot of products and more content to consume. In using content that has been created by your customers, you allow them to feel some ownership over it.
Customers featured in this content will often reengage with it. But why? They feel it's in their interests to bring it to the attention of as many people as possible. Think about the number of people you see on Instagram tagging companies in posts or their friends to say 'hey look at me, I'm almost famous'.
While this strokes the ego of your customer, your product is shared around social media, exposed to a greater audience. When using software that automates much of this process for you, you are reaping the rewards of hours or even days worth of work, while only really putting in a fraction of the effort.
When using UGC we have to be careful of overstepping privacy boundaries with consumers. Just because they posted it, doesn't mean you can simply take it and put it in front of your own followers. Sure, some of your customers would love the exposure, but some do not.
So you've found some amazing UGC that would look amazing on your Instagram! But don't rush to post it without considering the law… The problem with UGC is that the very things which will delight your marketing department will simultaneously have your lawyers tearing their hair out… What can we do?
How do we navigate privacy issues with UGC?
A few ways, a pre-determined hashtag, acting as a sort of 'terms and conditions'. If a customer posts content that features your brand, and tags you in it or uses a hashtag such as #yourbrandnamehere could act as permission.
But what if they forget to do this? Maybe they just don't bother with hashtags, not everybody does it. Is that the end of it? No, not if you can incorporate software that automates approval into your UGC strategy, such as Feed Composer by Adsmurai. The automated reply system means you don't have to spend hours or even the rest of your day, checking the feed of the person from whom you requested permission.
A huge time saver and stress reliever!
User-generated content can put your product in front of your target audience with little to no effort on your part. As it has been created by a member of this audience, it is authentic, less 'salesy' than traditional ads and so is more likely to convert. It relates back to something we discussed earlier, customers can see how it looks and feels on real people, how it would look on themselves!
The future of User-Generated Content

When thinking about the future of UGC, we have to consider society, as this is what dictates our activities as marketers. Society's attitude towards life has changed and will continue to do so. People desire involvement in things that shape their world.
UGC provides this involvement, control and authenticity. In meeting consumer needs, you increase the likelihood of purchase but also, repeat purchase in the future.
Mobile will continue to be a significant player in the future of user-generated content. It's widely accepted that the use of mobile over desktop will be a continuing trend and so as marketers, we must optimize for mobile search.
Despite this, reliable evidence (source below, thanks to Statcounter) suggests that whilst mobile searches are in fact, more widely used than desktop, the balance of power is shifting slightly, with the use of desktop searches on an upward trend in the past twelve months.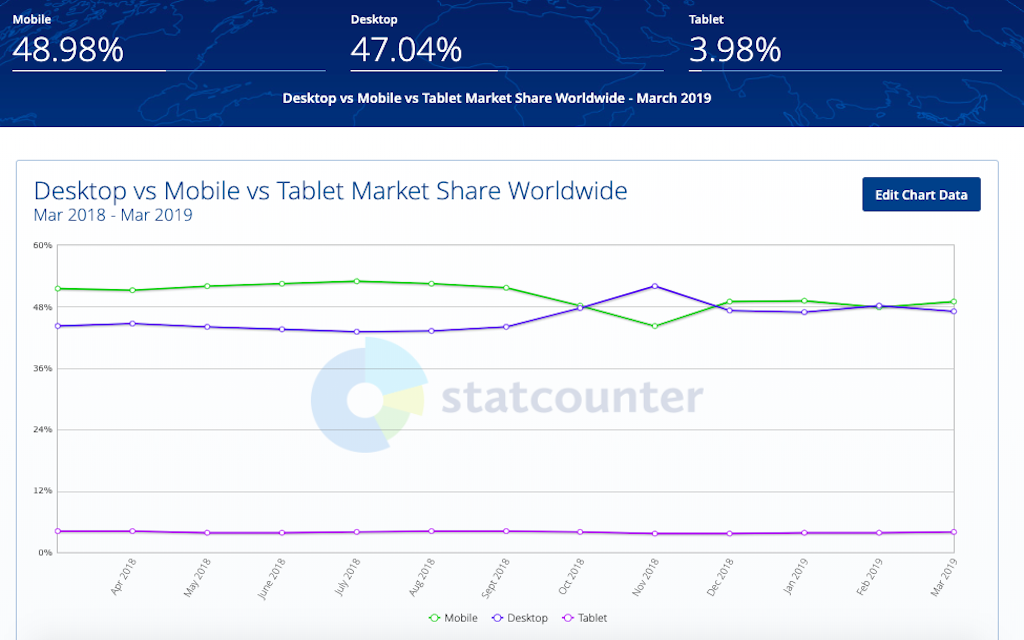 This would suggest that equilibrium is being achieved between the two, (with tablet searches far behind in 3rd place with a mere 3.98% of market share).
However, there is a caveat to this...
The development of new features for primarily mobile devices, such as the Instagram Shopping Checkout news that we brought you recently demonstrates that mammoth players in E-commerce are putting much of their efforts into mobile. From this, we can infer that they're forecasting a continued strong showing from mobile searches and thus we can deduce that mobile will continue to be important, and vital for you when trying to boost E-commerce sales.
It can be said confidently that UGC will continue to be a big player in the E-commerce world. Humans are visual creatures, we process and understand visuals faster than we can understand text. Make life easy for yourself by using this information in combination with the reliable research we've already discussed, that UGC has a higher conversion rate than traditional ads.
Essentially, in not using UGC you're leaving money on the table. Money that you're competitors will happily snatch up.
If you want to find out how to reap the many benefits we've discussed today and how Adsmurai can help you increase your E-commerce sales, just let us know, it's what we do best!
Subscribe to the newsletter!