Facebook Pay launches in Spain
Facebook integrates a new payment system in its platforms that allows users to make purchases in app.
Facebook Pay was launched last year in the United States and now arrives in Spain as the new unified payment method for all the company's applications: Facebook, Messenger, Instagram and WhatsApp.
At the moment, it is being tested in a small number of countries and applications with the aim of achieving an efficient service for making payments on the platforms themselves. Check out the possibilities of Facebook Pay in your country HERE
Payment methods in Facebook Pay
As Facebook explains in its official statement, there are two options for making payments: PayPal or, credit or debit card.
This new system tracks the transactions that are made and collects the data in a private history. In addition, there is an option to activate notifications to receive alerts each time a payment is made.
What can I buy?
The options with Facebook Pay are different depending on the application, among others, we find:
Buy products from the brands' marketplaces on Facebook and Instagram.

Send money to friends via Messenger and WhatsApp quickly and easily.

Make direct donations through fundraisers on Facebook and Instagram profiles.

Shop and enjoy entertainment on Facebook Watch.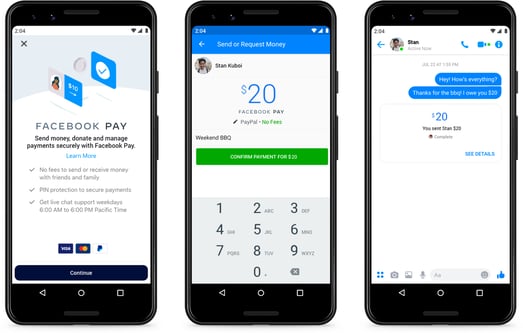 Security and Protection
To ensure user protection, no transactions on Facebook Pay are made without authorization. The main security measures on the platform are: fraud detection, personalized PIN and biometric data. In addition there is a customer service available 24 hours a day via email.
Facebook Pay is an efficient and secure way to pay in the applications you already use.