This 2016, Facebook has surprised us with a new ad format that allows companies transmit their stories better than ever, bringing storytelling to the next level.
Nearly as if it was a free workspace, Canvas allows the combination of pictures, videos, texts and call to action buttons with external links, all in the same publication, scrolling up and down and side to side or even making zoom. And all this without leaving Facebook.
The format, mobile-optimized and still in testing phase, is a creativity boom, and offers a fast charge system, 10 times faster than a mobile website. Advertisers can create a Canvas in the Canvas generator located in the Publishing tools section in your pages. Once finished, you will receive a URL so that you can use it in click to web ads and web conversions ads. During this post you will see some pictures from a Canvas created by Adsmurai.
How do I create a Canvas?
You contact us and we help you ;)

As it is a freer format, it is so important to have a clear idea of what we want to do before we start designing and have all the creativities ready to use.
The first step is to create the document. To do so, we must enter the page associated to the ad we want to make and once there, in the Publishing tools section we will find Create a Canvas. Now, we must give it a name (it won't appear but it helps us identify it) and choose a background.
Once created, we can add components. Canvas offers different components but it is not compulsory to use all of them. Besides, they can be freely organized. Canvas main objectives are website clicks and website conversions and Facebook offers design recommendations for both. Now, let's talk about the different components:
Header:

The header is a fixed image at the top of the Canvas. El encabezado es una

imagen fija

en la parte superior del Canvas. If it doesn't fit the width of the screen, you can select a background color to fill in the empty space. Unlike other Canvas components,

there can only be one header

. The header is one of the default components but if we don't need it or it doesn't fit our design, we can delete it.

Pictures:

Also a

default, moveable and deletable

element. You upload the pictures from your computer and put them in the place we want inside the Canvas. We can also choose

how we want the image to display on the screen

.

Buttons:

They will take users to different sites outside Canvas and Facebook. We can choose the

color, text and link of the button

to take users to the parts of our website that are more useful for the ad.

Carousels

: Carousels are series of cards with images and they normally contain links. They can all

have the same link or have an specific link each

and they all must have the

same size

. To add a link to a picture of the carousel, we must use the option fit to width, explained in the visualization options.

Texts:

We can add text blocks, give them the format we want and place them in the Canvas.

Videos:

As it happens with pictures, we will upload them from our computer and choose the visualization options. Canvas videos are played automatically.

Product sets:

They are a selection of products from our catalogue, shown in a dynamic way to

increase the conversion possibilities

. This option can only be used after

uploading a catalog of products and configure the pixel

.

Discover how

to create a products set inside the products catalog and get suggestions to create product sets.
During the creation process, we recommend saving the draft in order not to lose your progress. We can also save it and finish it later. Once finished, we can get a preview on our mobile device. When we are satisfied with our result, we can click Publish and Finish Canvas and we will get a URL to use it in our ads.
Once published, the Canvas is blocked and can not be edited.
Add a Canvas to an ad
To use our Canvas in a website clicks ad or website conversions ad, we should have published the Canvas, apart from finishing it.
From Power Editor, we can start creating a campaign and at the ad level choose Ad with an image or video and select Canvas.
From Ads manager, we should copy the Canvas URL and paste it on the Enter URL to promote field.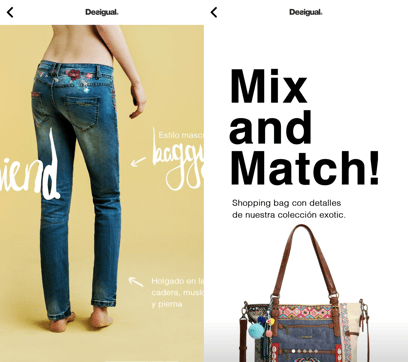 All these indications will be so useful when you create a Canvas, even so, the best for you is to see it to get inspiration and discover how much brands creativity can change, even yours. Start telling stories.