How to advertise on Pinterest in the sales season
Pinterest is the ultimate platform for discovery and planning. As users browse Pinterest, they continue to make decisions related to the buying process. For this reason, it is said that users transform inspiration into action on the platform, making Pinterest a full-funnel solution for digital marketers.
As advertisers, brands have the opportunity to show relevant content at all stages of the user's buying funnel.
Key elements for your e-commerce Pinterest Ads
Before we dive into how your brand should advertise on Pinterest during the sales season and how you can optimise your ads for the occasion, let's take a look at the key elements of a

Pinterest Ads for e-commerce

.

The tool that allows you to track user activity on your website. There is no point in setting up a flawless campaign in terms of creative, targets and budgets if the implementation of the Pinterest tag is flawed. Do you know how to install the Pinterest tag?


The initial phase of a conversion campaign. In this first process, ads are shown to different types of people to learn who is most likely to convert. When this phase is over, we have enough data to end the learning mode and the ads are shown to those most likely to convert. Campaign performance stabilises and the optimisation process can begin.
Automatic bidding to keep your ads competitive
On Pinterest, bidding is "the way you use your budget to pay for what different actions on your ads are worth to you". There are two types of bidding, automatic or custom.

With the automatic option, you let Pinterest manage and update the bidding for you on a daily basis. What is the goal of the platform? To get as many clicks on your Pins as possible, at the lowest possible cost and spend your entire budget.

Currently automatic bidding is only available on consideration, conversion and catalogue sales campaigns.
Use audience data to reach your ideal target audience.
By combining information about your customers with data about user activity on Pinterest, you can reach a specific group of people who like your brand. One of the most effective targeting options is the actalike audience, those users who behave similarly to your existing audience.

This targeting option will allow you to find new customers, Pinners who interact with your content on the platform or new people who may visit your website.
Include all Pinterest sites in your strategy
Placements are the places where your ads appear. There are three different placements on the platform: Explore (home feed and related Pins), Search (search results and related Pins) and All (both options). Pinterest recommends targeting all placements to give you a better chance of connecting with people in all the locations the platform offers.
How to advertise on Pinterest in the sales season
On Pinterest it is very important to be present at all stages of the consumer's buying funnel in order not to miss opportunities to influence their decision making.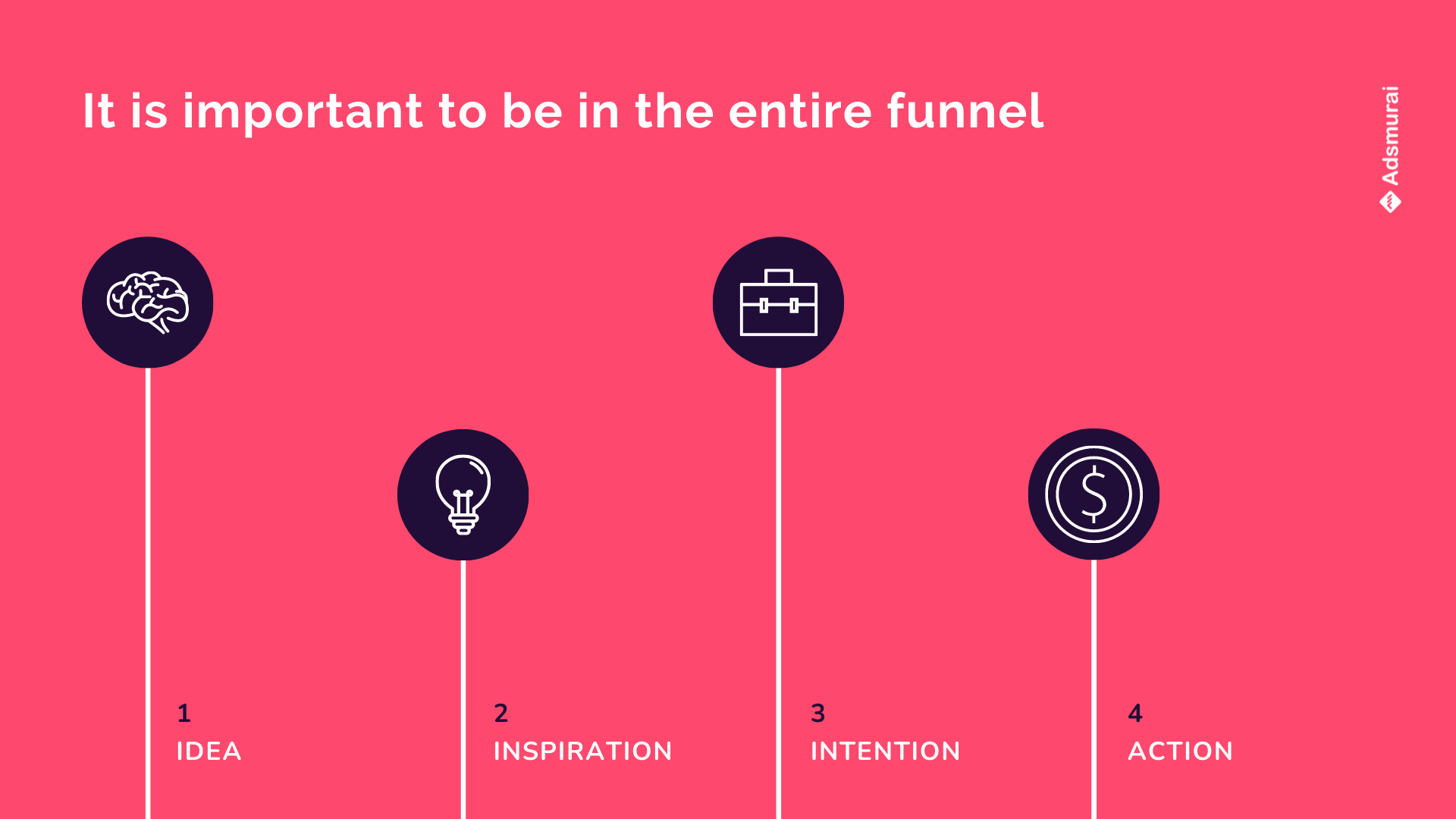 During the sales season, this process is reduced to two phases: planning and action.

It is a pre-launch phase. The objectives are purely for awareness and consideration. In this first stage, the standard image and/or video format is usually used. They are the size of a normal pin and serve to showcase products or other content in a simple format. There is also the possibility, and Pinterest recommends it, to use the full-width video format to extend the content to the entire feed.

This is the final phase of the purchase funnel. Through calls to action, we seek to convert the user. In this second stage, Pinterest recommends using the following formats: video or standard image, collections and carousel. In addition, the platform advises to choose the Shopping Catalog objective so that users discover your product while browsing Pinterest.

Do you know how to set up a catalog on Pinterest?

Check out the specifics of Pinterest ad formats in our

Social Media Guide 2022.



Optimize your Pinterest Ads for the sales season
It is not only important to be present at all stages of the purchase funnel, but also to stand out in each of them so that Pinners notice your ads over those of the competition.

In important seasons such as sales, you should take care of your Pinterest creatives. These are three recommendations that will make your sales campaigns on the platform go a step further.
Learn from insights and moments
As we have discussed in previous articles, Pinterest is an opportunity for e-commerce to show itself to users when they are most receptive. An early impact of ads during the planning process boosts the sales of an e-commerce.
To activate a moment strategy on Pinterest for your e-commerce, you have several options. Your brand can trigger a moment and prompt users to take action. Another option could be to appear before the rest and give way to a moment. There may even be moments with attributes closely aligned with your brand.

According to Pinterest, creating content specific to a season or an everyday moment has a 22% increase in online sales and an 11% increase in brand awareness.

During the sales season, try connecting your offers with users' interests and add signals related to that moment to your creatives.
Be clear in your messaging to drive action
One of the
Pinterest advertising best practices
is to keep your messages positive, inspiring, encouraging and engaging. Avoid using cold sales communications and connect your promotions with Pinners' ambitions and purposes. Remember that your ads should inspire purchase.
According to the platform itself, users prefer to find discounts and offers rather than free gifts or free gifts. Keep this in mind and communicate clearly the value of your offer.
Calls to action or CTAs are another element to review during the sales season. They should evoke the Pinner to click, especially in the action or conversion phase. According to Pinterest data, a clear and concise CTA, such as "buy" or "discover", can increase your CTR and even boost your sales by 6%.
Shape your creative based on the objective
Beyond any possible definition, Pinterest is a purely visual platform. Generating engaging and visual content is a must if you want your Pinterest strategy to work. Your ads on Pinterest should be visually appealing, inspiring and readable.

Use your branding to reinforce user recognition. 97% of searches on Pinterest are unbranded, and that's an opportunity for your brand to stand out. Make sure the logo appears in all the ads and avoid the top right corner, it is usually covered with the button to save the Pin.

Also use other graphic elements such as icons or text overlays to get the Pinner to stop on your ad and find what they are looking for, for example, an attractive offer.

Another option to stand out is movement. You can try incorporating the embedded gif format in your promoted video pins. Simple, short videos with a clear promotional message at the beginning lead to action.

Finally, the Collections and Carousel formats will allow you to showcase your products. Ads with a well-placed product have a 20% higher chance of driving sales.